How Much Women's Basketball Players Make in the U.S. vs. China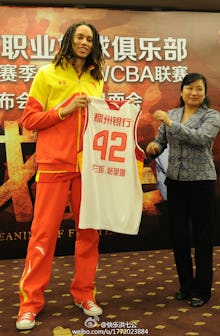 The top three finishers in the NBA's Most Valuable Player voting this season — Kevin Durant LeBron James and Blake Griffin — had an annual base salary of $17.8 million, $19 million and $16.4 million, respectively.
The most any of the top three vote-getters in the WNBA MVP voting — Candace Parker, Maya Moore and Elena Delle Donne — can make is $105,000, which by league rules is the maximum salary allowed for an individual player. The team salary cap for the WNBA last year was $913,000, with bonus payouts ranging from $1,050 for making the playoffs to $10,500 for winning the WNBA title. (The full details can be read here.)
While NBA players secure financial stability the minute they enter the league as first-round picks, the most talented female players are — while adequately compensated relative to other occupations — very low on the financial totem pole for athletes.
This is resulting in female players heading overseas, where the earning potential is much higher, after the WNBA's 10-week season ends. Take Brittney Griner, a three-time All-American at Baylor University who dominated the college ranks like few players in history (and even entertained trying out for an NBA team). She was the first overall pick in the 2013 WNBA draft, but as a rookie, could only make $49,440 per the WNBA's tight-pursed salary rules.
At the end of her first season, she played for the Zhejiang Golden Bulls of the Women's Chinese Basketball Association and earned $600,000 for a four-month season — or more than a dozen times her maximum WNBA salary — posting averages of 24.1 points, 10.3 rebounds and 3.7 blocked shots.
Moore was the first prominent female player to pursue the overseas path. She averaged 38.6 and 39.3 points for the Shanxi Flames over the past two seasons, respectively, leading the team to back-to-back championships. Though terms have not been disclosed, the former UConn star claims her WCBA contract is "significantly more than double" her rookie deal with the WNBA's Minnesota Lynx.
While going overseas is a no-brainer financially, there's a trade-off in lifestyle and adjusting to the culture. Being away from family, staying up late at night to communicate with them because of time differences, not having a common language to speak with your foreign teammates, finding a restaurant that serves the American food you crave — these are just several things Griner realized was different during her time in China.
"My first year here, I would get french fries and fried chicken because it was like a little taste of home," she said. "You're tired, you're lonely, you want to see your friends and family. Eating for comfort — I think we've all done that."
Image Credit: Weibo
Tamika Catchings, who played 10 seasons in the WNBA and eight offseasons playing abroad, noted the formidable physical challenge of playing overseas. 
"If you're not coaching or doing something with your team in the U.S., you're overseas playing," the former Tennessee standout said. "I know some of my teammates, we lost on a Tuesday and some of them were overseas on that Friday and they'll get back in April."
There are plenty of foreign options for WNBA players aside from China. Russia, Germany, Israel, Spain and Turkey are among countries with female basketball leagues in the market for American talent. These avenues exist for men, too, though typically as last resorts for faded stars to try and resurrect their careers (see: Stephon Marbury, Gilbert Arenas). The first choice for a top men's player will always be the greater financial compensation of the NBA.
This may no longer be the case for WNBA players. The financial disparity is so glaring that it may be only a matter of time until playing overseas, for all its cultural obstacles, becomes the preferred choice.