What New York State Would Look Like if It Endured the Syrian Conflict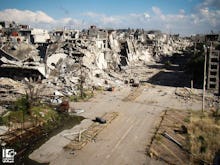 If Syria's conflict took place in the U.S., New York City's bustling metropolis of 8.3 million people would be deserted entirely: The beaming Times Square would be dark, empty and war torn, and people would flee to other less populated cities and towns.
The 145,000 people living in the upstate city of Syracuse would be dead.
It's a grim visual, but the picture paints the atrocious facts of Syria's conflict on U.S. soil. Syria's death toll is now at more than 160,000, and 9 million people have been displaced from their homes since March 2011. More than 10,000 Syrian children have also died in the conflict, according to the United Nations.    
An infographic created by the organization If We Were Syrian gives Americans an understanding of what the civil war would look like in North America. Americans would have to flee to other states or neighboring Mexico and Canada, and "all 4.3 million children in New York state would be forced to leave their homes."
Image Credit: If We Were Syrian
The organization produces visuals that bring home the level of death and displacement in Syria, helping people in other countries understand the gravity of what Syrians have endured over the past three years. They've created graphics for Canada, France, Germany, Italy, Japan and the U.K. These countries and the U.S. make up the "G7 countries," or the coalition of the world's most wealthy and developed nations. The graphics all stress that the country's largest cities would become desolate ghost cities — much like Aleppo, Damascus and other Syrian cities. 
If We Were Syrian founder Shannon Gormley told PolicyMic in an e-mail that the U.S. graphic presents "a yardstick" measuring the scale of the conflict through the American psyche of understanding the massive size of New York City.  
"It also forces Americans to imagine being in the shoes of people who they may think are very different from themselves: Syrians. It's tragic that many of us have to imagine ourselves being in a similar situation before we'll care that others live it every day, but in my experience reporting on the crisis, this is what's sadly necessary right now," said Gormley, who has reported as a global affairs columnist from Lebanon, Bulgaria and Jordan.
Gormley's organization and other human rights and refugee groups are demanding that the G7 countries provide more aid to Syria. President Bashar al-Assad, who just won a new term as president, announced "a general amnesty" for prisoners for all crimes excluding terrorism. But this does little to address the refugee and aid problem for the average Syrian civilian, who is not necessarily directly fighting in the conflict between the government and other "rebel" factions. 
"The Syrian humanitarian crisis is becoming the most significant of our generation, and it's not just a regional crisis. It's a global crisis," Gormley said. "And yet the international community isn't rising to the occasion. We need to provide more aid and more resettlement spaces."
That's space for nine million people – yet another testament to the scale of this conflict. To visualize what this number actually looks like, check out this interactive map from Al Jazeera America, which allows you to see how that number would look in different parts of the United States. This is how Syria's refugee problem would look in the Los Angeles area:
Image Credit: Al Jazeera America. 
For Americans, it's easy to forget about the violent civil war raging half a world away. But by transposing the sheer scale of the bloody conflict over familiar geography, If We Were Syrian and Al Jazeera America seek to present the Syrian crisis powerful new light.