There Have Been 5 Major Shootings in the U.S. in the Past Week Alone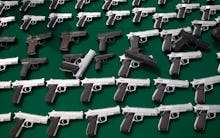 The news: In the past week alone, there have been five major outbreaks of violence across the United States. All have resulted in needless death, and all involved firearms. Here's a rundown.
Oregon, June 10: One student and an active shooter were killed Tuesday at Reynolds High School outside Portland, Ore.. Another teacher was nearly killed.
"This shouldn't happen in Troutdale," Max Maydew, the grandfather of two students, told the Oregonian. "You don't expect something like that to happen in your hometown."
Las Vegas, June 8: A married couple shot and killed two police officers and one other civilian and then killed themselves on June 8 in what authorities suspect to be an act of far-right violence.
The killers left a swastika, a "Don't Tread On Me" flag and a note that said "This is the beginning of a revolution" on the body of one of the officers. Mother Jones reports the two "espoused extreme pro-gun and anti-government views on their Facebook pages and ... had spent time at the ranch of Cliven Bundy, whose standoff with the federal government made him a cause celebre in the so-called 'patriot' movement."
By some measurements, right-wing violence is much more widespread across the country than the threat of Islamic extremism. After 9/11 is removed from the picture, right-wing extremism has become responsible for more instances of violence than Islamic extremism every year in the United States.
Mass violence in Chicago, June 7-8: On Saturday morning, police discovered 18-year-old Brian Weekly dead in the city's Washington Park neighborhood, making him the third fatality in a weekend of gun violence that saw four dead and over 30 people shot.
Chicago has seen 3,484 people murdered since January 2007, 73% of whom were black. 
Image Credit: RedEye
Much of the violence plaguing Chicago's streets is due to rigidly racially segregated neighborhoods that provide a "perfect blueprint for imposed disadvantage."
Rampant gang violence is just one side effect of the city's intimidatingly awful racial inequality. Easy access to firearms is another factor.
"We ignore the social and historical roots of segregation violence, and instead zoom in on the incident that preceded the lethal reaction — the petty argument, the drug theft. We settle for pat explanations like 'gang related' that only explain a little," writes Chicago Reader's Steve Bogira.
Forsyth County, Ga., June 6: Dennis Marx, an alleged member of the sovereign citizens movement, began an assault on the county courthouse on June 6 armed with an AR-15 and two handguns. One deputy was wounded before Marx was killed by as many as eight responding officers. According to police, Marx was carrying homemade explosives, suppliers and water, and the preliminary investigation made it clear to Sheriff Duane Piper that "He had been planning it for a while ... He came for the purpose of occupying the courthouse."
The sovereign citizens movement is a loose collective of various far-right activists who believe that all federal, state and municipal law is invalid and does not apply to them. Sovereign citizens believe that common law is the only legitimate rule of law and according to Forbes' J.J. MacNab, some profess that the highest power they are answerable to is the county sheriff.
MacNab puts it this way: If you're a Tea Party supporter and you dislike pesky ordinances or laws, you vote for people who go to your state Capitol or Washington, D.C., to remove them for you. If you're a sovereign citizen, you just take the position that you're above the law and cite pseudo-legal justifications with out-of-context or fabricated quotes from court cases or the founding fathers.
Most sovereigns simply attempt to retaliate against the government non-violently by filing false liens, refusing to pay taxes or suing government employees, but some — like Marx — resort to explosives, firearms, murders and arming themselves and other like-minded individuals to the teeth. The Southern Poverty Law Center estimated 100,000 "hardcore" sovereign citizens existed across the country in 2010.
Seattle Pacific University, June 5: Student building monitor Jon Meis averted further disaster on June 5, pepper-spraying and disabling alleged gunman Aaron Ybarra during an armed assault on campus. One other student was shot dead, and three were wounded.
Ybarra, 26, had a shotgun, 50 extra shells and a hunting knife. With a "long history" of mental problems, it's unclear how or why he was able to come into contact with firearms.
"We must change" America's clear gun problem: After the 2012 massacre at Sandy Hook Elementary School in Newtown, Conn., where 20 children and six staffers were killed by a rifle-toting, mentally ill person, a record number of Americans decided that they'd like stronger regulations on firearms — 78% supported better gun control, including mandatory background checks on gun purchasers and psychological screening of potential customers.
"We can't tolerate this anymore. These tragedies must end. And to end them, we must change," President Barack Obama said.
What have we changed? Nothing, and the problem of gun violence has gone unchallenged or in some cases — as with mass shootings — gotten worse. Since Sandy Hook, there have been 74 school shootings alone, or about one every seven days. Over 30 people are murdered with guns every day in the country. Yet we as a country have done absolutely nothing to respond to rampant gun violence but throw up our arms and say nothing can be done in the only country this regularly happens, or perversely demand more guns.
Congress still refuses to do anything — even closing loopholes or regulating online gun stores that allow pretty much anyone to purchase a firearm. Americans deserve better than this.
Correction: A previous version of this story incorrectly stated that Jerad Miller and his wife killed two police officers and one other civilian at a CiCi's Pizza.