One of America's Most Important States Is Inches Away From Legalizing Medical Weed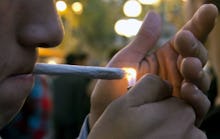 The news: New York state has never been closer to legalizing medical marijuana.
This week, New York Gov. Andrew Cuomo publicly eased up on medical pot, as record support came out of the state legislature. Following major efforts from state Democrats, the Compassionate Care Act (CCA), a comprehensive medical marijuana bill, recently received approval from the state Senate Health Committee. Now it just needs approval in the state's Senate Finance Committee and a passing vote in the state Senate before this year's session ends on June 19. After that, the CCA needs a signature from Cuomo, and boom: medical marijuana in New York.
But there's a problem: Despite the huge momentum, the next immediate step could pose a challenge. New York Senate Finance Committee chair John DeFrancisco (R) told reporters that his committee would not approve the CCA this year.
Nevertheless, its supporters are unshaken. Democratic Sen. Diane Savino, a co-sponsor of the bill, told reporters she remains confident that the bill will reach the Senate floor this session.
Third time's a charm: The New York State Assembly has passed the CCA every session since it was first introduced in 2012, and each of those years, the state Senate ended its session without voting on the measure. But only after passing both legislature chambers could the bill finally reach Cuomo, who has said he would sign the bill if it "makes sense." Right now, the bill is sailing a clear but narrow path toward passage.
Image Credit: Getty
Catching up: New York state has decriminalized marijuana, but along with Pennsylvania, it remains one of the last states in the Northeast without a medical marijuana law. As the most populous state on the East Coast, and home to America's largest and most influential city, medical marijuana's passing in New York could accelerate legislative action on the growing public support for further legalization in other states. In western and northwestern states like Washington, California and Colorado, the public directly supported ballot initiatives that made legalization a reality.
Image Credit: MPP
Northeastern states don't employ such initiatives, so the battle is in swaying lawmakers to vote in the interests of their constituents. With 88% of New York residents in support of medical marijuana, it's just a matter of translating public support into legislative action. The advocacy groups, the medical patients and the people of New York have made their preference clear. We'll find out how the lawmakers treat it within a matter of days.