25 Photos of Pelé Meeting Everybody Worth Meeting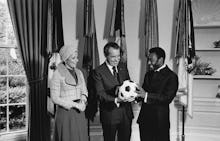 Edson Arantes do Nascimento — better known as Pelé — knows a little something about the weight of expectations. He was 9 when Uruguay defeated Brazil in the final match of the 1950 World Cup before a reported crowd of 200,000 at the Estádio do Maracanã, an upset that defined a nation's identity for most of the next decade. Not until Pelé came of age, leading Brazil to World Cups in 1958, '62 and '70, was the ghost of the Maracanazo finally laid to rest.
Since then, the Pelé legend has only grown, and a look at the company he's kept over the past half-century traces a unique path through world culture over the past half-century.
1. Frank Sinatra
2. Gerald Ford
3. Roger Federer
4. Muhammad Ali
5. Andy Warhol
6. Jackie Chan
7. Robert F. Kennedy
8. Pope Paul VI
9. Nelson Mandela
10. Bill Cosby and Ilie Nastase
11. Michael Caine and Sylvester Stallone
12. Joe Namath
13. Richard Nixon
14. Elton John
15. Willie Mays
16. Jimmy Carter
17. Pope John Paul II
18. Anderson Silva
19. Ronald Reagan
20. David Beckham
21. Tom Brady and Gisele Bundschen
22. Bill Clinton
23. Pope Benedict XVI
24. Henry Kissinger
25. Shakira