The Media's Reaction to R. Kelly's Trans Son Reveals Prevalence of Online Transphobia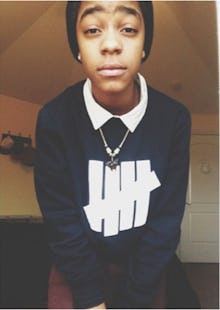 Jay Kelly, the 14-year-old child of R&B singer R. Kelly, came out as trans last week in a Facebook post — and predictably, the discussion already reeks of cisgender sexism.
News of Kelly's announcement was greeted almost immediately by the type of transphobic language that is, sadly, still too prevalent in American media today. This also displays how badly some journalists, public figures and social media users are failing at accepting and respecting transgender and gender non-conforming youth.
Here's the deal: Jay Kelly is a young man. Get over it.
Via his Ask.fm page, it's clear that Kelly actually began publicly discussing his transgender identity as far back as March. In his answers, Kelly debunks some common misconceptions, and even details his wish to obtain gender affirming surgery. But when the news broke on blogging sites, it quickly became clear that not everyone was a fan.
Gossip blogger Sandra Rose has led the transphobic charge against Kelly, elevating his story to the mainstream media while purposefully using female pronouns and calling him a "biological girl" with a mental illness. Rose, who has a history of transphobic rants, made the assertion while quoting "science" that is now rejected by the American Psychological Association and a growing number of doctors.
Image Credit: SandraRose.com
Meanwhile Naturally Moi, a popular site created "for women of color," wrote about Kelly's announcement with the headline: "R. Kelly's daughter is now a boy."
Kat Callahan over at Jezebel roundly rebuked their coverage. "We can't even get past the title without finding something troubling," Callahan wrote. "First, of course, we don't know when Jay's gender identity formed. If his narrative is like mine or Janet Mock's or any number of trans men I've met, then he has always been a boy."
Perhaps particularly troubling, however, is the fact that these attacks came from blogs operated by African-American women. Such posts reinforce discrimination against black trans people, many of whom face higher levels of bias, poverty and violence than others.
Worthy of note, and despite their own gaps in coverage, Madame Noire, a blog, committed to filtering its story's comments for hate speech.
The relationship between the black community and transgender individuals is a complicated one, of course, and recent events should not be used to perpetuate the idea that blacks are more anti-LGBT than other racial groups. According to the National Transgender Discrimination Survey, black trans people who come out are embraced by their family at higher rates than average — which was also the case for Kelly, who pointed out his mother's support.
So what can we do?
Laverne Cox is still gracing the covers of TIME magazine at local newsstands, a very tangible reminder of the many key victories and moments achieved for trans visibility within recent years. Yet the community and its younger members endure various indignities: misgendering, invasive questions and even the outright denial of their identity.
The media can and must to do better. Case in point, this week on CBS Sunday Morning, during an otherwise refreshing segment about trans youth, Rita Braver labeled a 12-year-old trans girl "biologically born a boy" rather than a person who was born and assigned male gender because of their visible body parts. Braver also provided a platform for the president of a "conservative legal group" to spread misinformation on the issue.
One of few organizations getting it right is the Girl Scouts of America, who publicly affirmed transgender girls' ability to join the ranks in October 2011. The policy reversal came as 7-year-old Bobby Montoya, who identifies and expresses gender as a girl, faced rejection because "he has boy parts." Bobby left the encounter in tears. Yet, the child's heartfelt testimony did not prevent comments like this one.
In a separate CNN segment, openly gay anchor Don Lemon and psychologist Alduan Tartt undermined Montoya's gender identity and even the mother's affirmations. "He should not have been allowed interest into the Girl Scouts. It's for girls. It's not for boys that want to be girls," Tartt said, with Lemon adding that Montoya is too young to know how he identifies.
The notion that a cisgender parent can overrule their child's gender identity damages a child's development, forcing painful conformity and a delay in authentic expression until they're an adult. It also denies young people — including Bobby Montoya and Jay Kelly — a right that many adults take for granted: the freedom of self-determination. The American Psychological Association encourages a "gender affirmative approach," cautioning against forcing gender conformity for kids. Doing so, the organization says, may cause behavioral problems, depression and even suicidal thoughts.
Instead of questioning the identities of trans youth, perhaps cisgender people should question their understanding of sex versus gender, and how we've come to understand gender as a binary rather than a spectrum.
And an even more important first step would be supporting trans youth and their families as they navigate a callous and cruel social landscape.