The 11 Best Albums of 2014 (So Far) That You Haven't Listened To Yet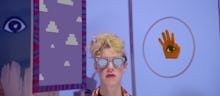 The end of 2013 was such an epic moment for music lovers that it's been a little hard for many of us to form an opinion on 2014. Beyoncé, arriving in December 2013, quickly became the fast-selling album in iTunes history. Around the same time, Pharrell's "Happy" began its meteoric rise to becoming the only pop song anybody listened to for a long while.
Meanwhile, the loudest releases of the last month have been momentous for non-musical reasons. The Black Keys' Turn Blue and Jack White's Lazaretto (admittedly, a good album) have pretty much dominated music press, due mostly to an over-publicized feud about whether or not Jack White could tolerate having his son in the same school as Black Keys frontman Dan Auerbach's son. The answer is: He can't.
But it's actually been an amazing year for music, and there are a number of notable albums that are flying largely under the mainstream radar. From debuts to recent entries in lengthy careers, here are a handful of artists and bands that are redefining this year's sound.
1. 'Benji' by Sun Kil Moon
Mark Kozelek, the man behind Sun Kil Moon, has been flirting with magical sadness for his entire career. With each album, he's gotten more poignant. This one sort of bottoms out the trend: It's epically melancholic and sweepingly beautiful. He explores mortality in songs like "Carissa," a heartbreaking ballad about the passing of his second cousin (due to an aerosol can fire). The song "Jim Wise" features the refrain "Jim Wise mercy-killed his wife in a hospital at her bedside / Then he put the gun to his head and it jammed and he didn't die."
It's almost comically depressing, but it's so bold and so hopefully beautiful that it's still captivating. Benji comes from the depths of Kozelek's heart: This is the folk singer's sixth studio album, and possibly his best. "Things get heavier as you get older," he said in an interview with Pitchfork. "At 47, I can't write from the perspective of a 25-year-old anymore."
2. 'So It Goes' by Ratking
Twenty-somethings Wiki and Hak, alongside producer Sporting Life, stick to rapping about what they know best: New York City. The young hip-hop trio's debut album is raw but impressive, full of incisive observational lyrics. So It Goes covers everything from love and gentrification to money and police brutality in their hometown.
"So Sick Stories," a collaboration with young English singer-songwriter King Krule, delves into the grimy consequences of inner-city life. For Ratking, New York is a place where souls are "set adrift, in between the concrete and the mist."
3. 'Strange Friend' by the Phantom Band
Released just last week, this Scottish "proto-robofunk" band's most recent endeavor is an unbeatable summer album. It's been four years in the making, and it sounds it — this music is impossibly lush. At its core, though, is singer Rick Anthony's voice. His deep baritone lingers like the National's Matt Berninger over uplifting synthesizers. From the opening anthem of "The Wind That Cried the World" to the airy closer "Galapagos," this is an album that constantly redefines the band's genres in each track. Still, at their core, each song feels like an earthy Scottish folk song.
4. 'Small Town Heroes' by Hurray for the Riff Raff
Alynda Lee Segarra, the face of country-blues outfit Hurray for the Riff Raff, left home at 17 and started hopping freight trains across America. Somewhere along the way she met Yosi Perlstein, a transgender fiddler. They hit it off and the two settled in New Orleans and started making music together. Small Town Heroes pays homage to her time in New Orleans, with bluegrassy tunes like "Crash on the Highway" and "End of the Line" that would be right at home in cozy small-town bars. There are some classic rock and roll elements, too; Segarra's sassy vocals shuffle around bluesy electric guitar riffs in songs like "No One Else." She's young, but her voice is timeless.
5. 'Salad Days' by Mac Demarco
Demarco is a goofy, gap-toothed dude who looks like he's been hanging out at one too many college parties. Part of the Canadian's "slacker rock" appeal stems from his strident efforts not to take himself too seriously. To wit, he calls his own style "jizz jazz." 
But slacker aesthetic aside, Demarco is a brilliant musician. This year's Salad Days has become Demarco's breakthrough, full of sun-drenched, pool-party tracks like "Blue Boy" and "Goodbye Weekend." His recent video for "Passing Out Pieces,"directed by bandmate Pierce McGarry, is slightly NSFW, though, interspersing semi-violent scenes with shots of Demarco in a bathtub surrounded by cabbage.
6. 'Nabuma Rubberband' by Little Dragon
The Swedish electronic quartet's fourth LP opens mysteriously with "Mirror," eventually evolving into a whirling, rhythmic mixture of trip-hop and R&B led by frontwoman Yukimi Nagano. It's one of the most sultry and hypnotic records in recent memory.
But this album isn't just about Nagano and her soaring vocal lines; tracks like "Cat Rider" and "Paris" are grounded in heavier, atmospheric instrumentals that effortlessly bleed into one another. Nabuma is a collection of masterful dance grooves, with a subtle and sweet dreaminess — it's an incredible feat of production.
7. 'Emma Jean' by Lee Fields and the Expressions
Lee Fields has been making powerful soul music for more than 45 years. But his newest album, named after his mother, doesn't necessarily fit into traditional canons of soul; it is, as Paste puts it, "simply 2014 soul, a record that's both modern and timeless." 
The Expressions' arrangements help provide the perfect backdrop for Fields' richly emotive voice as he mourns the loss of his mother. "Magnolia," a cover honoring the late JJ Cale, turns an old folk-country legend into a dusky soul cover.
8. 'My Krazy Life' by YG
You might remember YG from last year's popular track "My N***a." He made enough of an impression with that one that it's a little hard to believe that this is the L.A. rapper's Def Jam debut. The difference, then, is that this is chock-full of collabs with everyone from Schoolboy Q to Drake to Kendrick Lamar. It could sound just like any other West Coast rap release, but catchy hooks alongside DJ Mustard's tight club production make it clean and entertaining; "I Just Wanna Party," with Schoolboy Q and Jay Rock, paints a picture of "a young gangster who works hard and plays harder."
9. 'Lost in the Dream' by the War on Drugs
The Philadelphia-based shoegaze band is often associated with past member Kurt Vile, but this year's release really brings songwriter Adam Granduciel to the spotlight as his own entirely unique musical force. The album delves deeply into the depression Granduciel experienced after long years of touring, Lost in the Dream has garnered extensive critical acclaim this year, even debuting at No. 26 on the Billboard 200. All of its shadowy tracks pile up and culminate in the album's final breath, "In Reverse," a glorious rock epic that answers its own closing question — "Is there room in the dark in between the changes?" — with defiant hope
10. 'Close to the Glass' by the Notwist
Opening with a sparse synth line, "Signals" slowly builds on its own intricacies. This album is a sonic adventure, with Notwist carefully tiptoeing forward through electronic beeps and chords. Tracks like "Run Run Run" and "They Follow Me" teeter on the edge of paranoia. It's a dose of old-school European electro, and with good reason. The quartet includes brothers Micha and Markus Acher, who first formed the band in Munich in the late '80s.
11. 'nikki nack' by tUnE-yArDs
The experimental-pop band's W H O K I L L may have put singer Merrill Garbus on the map, but this is the album that keeps her there. Equal parts confident and bouncy, nikki nack sometimes feels like a Saturday morning children's TV show, with Garbus as its playful host. Her voice weaves through tracks of quirky bass lines, choppy percussion, claps, snaps and lighthearted shouts.
Though it's easy to get caught up in the shout-along chorus of "Water Fountain," tracks like "Wait for a Minute" balance the album's playfulness with slower R&B-esque vocals. Garbus knows how to flirt with maturity, but she still keeps one foot in the group's youthful sound. It's that kid's TV show that the adults want to watch too.