17 Instagrams That May Show the Fabulous Life of Mexico's Newest Top Drug Kingpin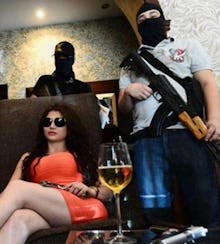 Could this woman be a top cartel assassin or drug lord?
Claudia Ochoa Felix of Culiacan, Mexico, is being called "La Emperatriz de los Antrax" by followers on social media — or, in other words, leader of the deadly Sinaloa cartel murder squad formerly run by the now-imprisoned Jose Rodrigo Arechiga Gamboa ("El Chino Antrax").
Photos of her circulating on Twitter, Facebook and Instagram show her surrounded by masked gunmen, brandishing a pink AK-47 and hanging with narcocorrido band Los Tucanes de Tijuana. One of many photos shows her infant son lying on a bed, surrounded by piles of cash. She maintains known relationships with Sinaloa cartel figures, including El Chino and reputed lieutenant El Chavo Felix.
And frankly, she really does look like Kim Kardashian.
But what really made her come to public attention was an incident on May 6, when gunmen grabbed a woman widely speculated to have been mistaken for Claudia from Culiacan's Extreme Fitness Gym, torturing and killing her. In just weeks, Claudia had 100,000 followers on Twitter, many times those of other prominent drug barons.
According to the Daily Beast's Michael Daly, Claudia took down the Twitter account, which held many of the most incriminating photos. But her Instagram and Facebook page are still there. While it might not seem a good idea for a major drug lieutenant to post photos of guns, money and drugs on the Internet for all to see, El Chino did the same, which might have been a contributing factor to his capture. Claudia is one more of what Daly calls "pathologically narcissistic narcos," who seem as addicted to flaunting their gains on social media as their customers are to cocaine and heroin.
Claudia calls claims that she is operating as a member of a cartel hit squad "cowardly lies and slander," and alternate theories have cropped up as to her real job. She could be protecting another cartel member's assets, holding El Chino's position for him in Los Antrax or simply a social media-savvy girlfriend of a more powerful man in the industry. And as far as anyone knows, the Mexican government is not formally investigating.