6 Actual Facts Shatter the Biggest Stereotypes of Black Fathers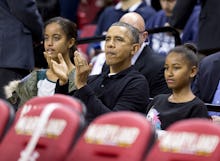 As the country gets ready to celebrate the contributions of American fathers this weekend, it's important to remember that all American fathers — regardless of race or socioeconomic status — can and do make exemplary father figures.
Sadly, for too long, the primary narrative about black family dynamics has been that the majority of black children live in single parent households, and more than half of those households are headed by black mothers. Even President Barack Obama in his 2008 Father's Day speech appeared to criticize black fathers' contributions to parenting.
"But if we are honest with ourselves," Obama said. "We'll have to admit that too many fathers are missing from too many lives and too many homes. They have abandoned their responsibilities, acting like boys instead of men." Obama's remarks represent some of the broad stereotypes that continue to plague the depiction of black dads of the mainstream media and social psyche. But there are actual facts that suggest that black fatherhood is just as complex as white fatherhood.
Indeed, research into the issue by the Centers for Disease Control and Prevention (CDC) published earlier this spring shows that black fathers continue to play an active role in the lives of their children and communities despite a plethora of challenges that date all the way back to the of history of slavery. The government, too, has played a role in this narrative, as evidenced by a U.S. Department of Labor report entitled "The Negro Family: The Case for National Action," written by Sen. Patrick Moynihan in 1965. Moynihan's report pathologized poor black men and families and cast black fathers' parenting styles as lacking because they did not often fit the traditional American understanding of family as deleterious.
Ultimately, black fathers are shaping their children futures like any other parents — and it is high time they received their share of credit.
1. Black fathers are not conditioned to be absent.
Contrary to popular opinion, the Centers for Disease Control and Prevention has found that black fathers are "more involved with their kids on a daily basis than fathers from other racial groups." The Pew Research Center has also consistently concluded over the years that there are no significant differences in the parenting styles of black and white fathers, despite the myth that black fatherhood is in a prolonged state of crisis. 
Both reports measured income, emotional support, time fathers spent reading and eating with their children, and found that black fathers are often leading other fathers in these categories. The CDC's data, based on a survey of 3,900 fathers between 2006 through 2010, also suggests that black fathers are more "absent" if absent is measured by fathers living in the same household as their children but they are more involved in the lives of their children even when they don't live under the same roof.
The study found that 70% of black dads said they bathed, diapered or dressed those kids every day, compared with 60% of white fathers and 45% of Latino and that 35% of black fathers who lived with their young children said they read to them daily, compared with 30% of white dads and 22% of Latino dads.
Indeed, even when black fathers are not living at home with their children 67% see them once a month compared to 59% of white dads and 32% of Hispanic fathers. 
2. Black fathers contribute to their children's educational success.
After examining the relevant data, Howard University professor Ivory A. Toldson found last year, "Among black male middle and high school students who had a father present, 62% reported good or very good grades, compared with 55 percent for students with no father present." Toldson noted that in high school, black students with a father in the household averaged a 3.1 GPA compared to 3.0 GPA average for students without a father present.
Toldson's findings are important due to the continued erasure of black fathers' interactions and parenting. Like many assumptions on the issue, these misconceptions are again rooted in racial assumptions that can be traced back to a lack of understanding of black parenting, in the process ignoring the experiences of single fathers who have themselves provided tirelessly for their children.
3. Black fathers are statistically more likely to be stay-at-home dads.
According a 2014 Pew report, the number of stay-at-home fathers has actually risen dramatically since 1989. In fact, over the past few decades, the number of stay-at-home dads nearly doubled, from 1.1 million to 2 million. These numbers are at odds with the data recorded by the U.S. Census, which uses a much more limited defintion of the term.
This means that black men are twice as likely to be stay-at-home dads than white men. While there are many reasons for men to stay at home with their children, NPR notes that "the fastest-growing group among stay-at-home fathers is men who say they are home specifically to provide child care."
"We have a long-standing tradition in African-American families of fathers doing a lot with their kids," Scott Coltrane, the provost at the University of Oregon and expert on fatherhood, told NPR. "What's different is culturally now, most parents do a little bit of both. We expect women to work. We expect men to do more at home."
4. Black fathers are not fueling out of wedlock births on their own.
There has long been the notion — made popular by the Moynihan Report — that black fathers are having children out of wedlock more than men of any other race. However while that may have been the case in 1965, today much of the 41% of mothers that are giving birth are white. In fact, a 2012 CDC report found that there are 4 million more white children living in single parent homes than there are black children in America.
Indeed, the "crisis" of out-of-wedlock birth seems to only be a problem for black parents when the actual number of children, not percentage, are white. The unmarried black father has been blamed for the causes of poverty, youth crime and drug use, but the actual numbers tell a very different story. 
5. Black fathers are not prejudiced against black women.
There is the sense among some that black men do not marry black women. Often, this case is supported by a statistic claiming 42% of women black women aren't married.
But Toldson has debunked this idea, finding that in fact, the number of black women who are married by age 35 is actually 75% when you take into account accurate U.S. Census data, and that of these married women, most are married to black men.5
Indeed, even when you control for income, 83% of black men who earn more than $100,000 annually are married to black women and 88%of all black men regardless of income are married to black women. This is just one more culture trope that falls by the wayside when people take the time to evlauate the actual data in a comprehensive way.
6. The prison pipeline targets black fathers, shattering nuclear families.
According to the sentencing project's "Parents in Prison" report, 1 in 15 black children had a parent in prison in 2007 compared with 1 in 42 Latino children and 1 in 111 white children. Most of these incarcerated parents are black men, of which 47% lived at home with their children before they went to jail.
With its "War on Drugs" era and mandatory sentencing procedures, black men have been unfairly targeted black, resulting in the breaking up of a large percentage of black households that would be otherwise two parent homes. The same Parents in Prisons report found that "62% of parents in state prisons and 84% of parents in federal prisons are incarcerated more than 100 miles from their last residence."
The farther the parents are from their homes, the harder it is for their children to visit regularly and maintain a relationship — this is just common sense. Meanwhile, "59% of parents in state prisons and 45% in federal prisons have not had any personal visits with their children while in prison."