What Shonda Rhimes Gets Wrong About Hashtag Activism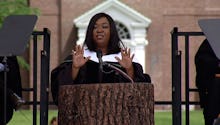 Shonda Rhimes isn't here for your political hashtags.
The high-profile creator of ABC hits Scandal and Grey's Anatomy took a bold stand during her commencement address Sunday at Dartmouth, encouraging her alma mater's new graduates to become active citizens working toward worthy causes — not "sitting on [their] butt" using Twitter.
"A hashtag is not a movement. A hashtag does not make you Dr. King. A hashtag doesn't change anything," she said near the end of her remarks.
Rhimes is not alone in her dissenting view of Twitter-based activism. Meghan Murphy is one of several Feminist Current writers who have claimed that Twitter creates a toxic environment for activists and allies alike.
"Twitter seems not only to be anti-human but anti-movement," Murphy wrote in December 2013, noting that she's often unfairly attacked as a white feminist. "Do we realize that bullying people, calling them names and encouraging your followers to join in isn't actually activism?"
Then there's the fact that even some hashtags that spark important dialogues don't always have the desired impact.
Just a few months ago, #CancelColbert was widely panned as a failure and an overreach by Asian American activist Suey Park, a freelance writer best known for her creation of the #NotYourAsianSidekick, which raised awareness of Asian American stereotypes. In an interview with the New Yorker, Park said she never sought the show's demise, but to critique "white liberals who use forms of racial humor to mock more blatant forms of racism." Still, many perceived the campaign as an attempt to punish an otherwise incisive social humorist for a tweet that wasn't read in context. 
But Rhimes' dislike of Twitter activism quickly spread online, with some praising her for a "common sense" approach to political action while others. Others, however, especially within the ranks of "Black Twitter," a constellation of highly engaged African-American users represented on the medium, reacted with indignation.
Responding to her critics, Rhimes sought to clear the air in a statement midday Wednesday, stating that the remarks were solely intended for the Dartmouth grads. 
"If you were receiving the privilege of breathing the rare air that comes with getting an Ivy League degree on Sunday, I was talking to you," she said. "Hashtags are amazing for raising awareness. But I was telling them to go beyond that and do more."
But that did not placate critics, who then accused Rhimes of elitism.
At Dartmouth, Rhimes was particularly critical of a few recent campaigns that she believes won't — or haven't — accomplished any meaningful change, singling out the controversial #BringBackOurGirls campaign. 
But what Rhimes did not mention were some of the successful online campaigns, which have received widespread news coverage and political action since Twitter's launch. Within the past year alone, hashtags arguably prompted Donald Sterling's lifetime NBA ban, amplified the news of Trayvon Martin's murder and helped black student organizers at the University of Michigan fight for racial inclusion and equity.
Hashtags have also been credited with reinvigorating conversations about feminism. Last August, Mikki Kendall created the globally trending #SolidarityIsForWhiteWomen, where she and others called for increased attention to intersectionality within feminism and sought to claim space where they'd otherwise been marginalized.
Image Credit: Bustle
Kendall told PolicyMic that Rhimes' remarks disrespected young activists and others who use Twitter to reach a wider audience as part of online and offline organizing strategies.
"It's a weird dichotomy ... they're doing activism in a way that works for them. It doesn't mean they're doing it wrong," Kendall said, adding that many activists also engage in offline work despite not always discussing the specifics. "If I volunteer at a soup kitchen, and I don't tweet about it, does that mean I didn't volunteer?"
In fact, Dartmouth students have acted online and offline for on-campus causes, Kendall noted.
After numerous incidents of racial bias and discrimination against protected groups within the past few years, campus leaders in February sent administrators an eight-page document with a list of grievances and policy recommendations. Weeks later, students staged a daylong protest and handed administrators a 72-item "freedom budget" to address the issues. As a result, Dartmouth President Phil Hanlon announced in April a presidential steering committee made up of community members who will research policy changes and present them to trustees in the fall.
And, yes, Dartmouth students included a hashtag campaign in their efforts: #RealTalk.
Interestingly, Rhimes' own history with Twitter is a complicated one. Lauded as "the show that Twitter built" by the Los Angeles Times, Rhimes' smash hit "Scandal" is the top-rated prime-time show for black audiences. It was also the fourth most tweeted-about program in 2013, according to Nielsen data. 
The two methods of civic engagement aren't exclusive from each other; indeed, they may be most effective if used in tandem. And based on recent trends, you can't have one without the other during large campaigns. As for any public relations fallout from the whole affair, perhaps Rhimes should call on her good friend Olivia Pope for a few pointers?