13 Photos That Show a Side to Cuba You'll Never See in the Media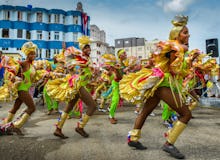 If you close your eyes and think of the word "Cuba," chances are you thinking of something along the lines of:
A bearded man in green military garb smoking a cigar.
A mojito.
An old VW Beetle bouncing down a cobblestone road. 
Tom Cruise and Cuba Gooding Jr. yelling, "Show me the money!" 
OK, you probably didn't think of the last one. But the fact remains that the prevailing stereotype Americans have of Cuba is of a small, iconoclastic country ruled by an old dictator that has remained stuck in the late 1950s. Or, with all the socialized medicine hype over the past few years, maybe you've also heard of Cuba's fabled health care system.
But Cuba has been undergoing a fascinating and important transition over the past six years, when Fidel Castro relinquished power to his younger brother Raúl: a series of unprecedented reforms. Make no mistake, the Cuban government continues to be repressive and undemocratic. But while Cuba may not be very big, there is more happening on the island that you may think.
1. It is racially diverse.
A fundamental aspect of Cuban history and culture is its diversity. Some 35% of Cuba's population identifies as black or mixed-race, a percentage that is maintained in the island's single-party parliament. Nevertheless, significant challenges, particularly economic ones, still bedevil racial minorities.
2. It is religiously diverse.
Santeria, a syncretic religion infusing elements of Catholicism and African beliefs, originated in Cuba. Though long repressed, it has gained greater visibility and acceptance in recent years.
3. Its women kick ass.
Not only do women comprise half of Cuba's parliament, they are some of the island's most famous political figures. Yoani Sánchez (pictured above) is perhaps Cuba's most well-known dissidents, many of whom are women. Meanwhile, Havana-born Ileana Ros-Lehtinen was the first Hispanic woman elected to the U.S. Congress and is chairwoman emeritus of the House Foreign Affairs Committee.
4. It has an LGBT movement.
Fidel Castro isn't exactly known for being an apologist, but he has taken personal responsibility for the "unjust" persecution of sexual minorities that took place under his regime, which included sending gay men to concentration camps and into exile. Though much progress remains, Castro's daughter is an outspoken LGBT advocate, homosexuality is no longer a crime and the state provides free sex-reassignment surgeries.
5. Baseball is a big deal, but has an ugly side.
Cuba just dropped its ban on players signing with foreign teams, but the U.S. still requires athletes to defect if they want to play professionally. This has created a veritable black market for athletes, in which players are literally smuggled into the United States.
6. It has small businesses
One of Raúl Castro's majority priorities has been to reform and open the Cuban economy. One major concession was allowing citizens to start their own small businesses. For many, however, the reforms have been frustratingly slow and oftentimes contradictory.
7. It wants your tourist dollars.
Tourism is critical for Cuba's economy and is part of the government's strategy for attracting foreign investment.
8. It's finally allowing its citizens to travel.
In 2013, the government stopped requiring exit visas for travel. The policy had been on the books since 1961 to prevent Cubans from fleeing the regime.
9. It's building big ports ...
With around $1 billion in Brazilian investment, Cuba's Mariel "megaport" celebrated its inauguration earlier this year. It is the largest infrastructure project ever undertaken in Cuba, planned to occupy 180 square miles, and will include — irony of all ironies — a free-trade zone. 
10. ... but it needs way more houses.
Cuba suffers from a chronic lack of housing, a deficit that has progressively gotten worse despite the government legalizing the real estate market in 2011. 
11. It is not an international pariah.
In January, all 33 nations of the Western Hemisphere (sans the U.S. and Canada) gathered in Cuba for a meeting of the Community of Latin American and Caribbean States. Havana is also currently in negotiations with the E.U. to normalize relations. 
12. It is the host of historic peace talks.
Negotiations between the Revolutionary Armed Forces of Colombia (FARC) and the Colombian government have been underway in Havana since 2012. The talks, if successful, would end a 50-year insurgency, the longest in Latin America.  
13. Basically everyone thinks the embargo is stupid.
What do Hillary Clinton, Castro-critic Yoani Sánchez, a majority of the American public and effectively every country in the world — except, ahem, Israel — have in common? They think the U.S. embargo on Cuba is a really bad idea. It is an antiquated and ineffective policy that has served only to isolate the United States from the global community and prop up the Castro regime. The fact that, four decades later, it continues makes one wonder whether it's us or them that's really stuck in the past.