This Heartbreaking Young British Singer Is About to Make it Huge in America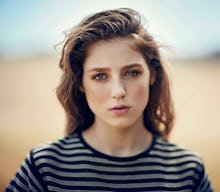 The movie adaptation of John Green's enormously successful young adult romantic drama The Fault In Our Stars recently enjoyed a lucrative opening weekend, pulling in an estimated $48.2 million. It's currently the top film at the box office. This is an impressive feat for a movie about teenagers with cancer that doesn't involve sexy vampires or any ostentatious spectacular effects (other than the audience's waterworks at the end — those are spectacular). It's succeeding, though, because the story lives up to its title's Shakespearean origin as a veritable tragedy. And that's due largely to the brilliant soundtrack, which is one of the most beautiful soundtracks in recent memory. Its popularity is surging alongside the film's. And that's because of one artist especially.
Birdy, born Jasmine Van den Bogaerde in Hampshire, England, the daughter of a classical pianist and an author, has been waiting her whole career for a film like this. The story was waiting for her, too. Her music appears twice in the film and three times on the album. She's a necessary component because she, like the film's protagonists, is young and wise beyond her years. Her own life is also well-suited to the big screen. She won a nationwide singing competition when she was 12 years old and earned a recording contract from her success. But her career didn't really begin until three years later when she released a jaw-dropping cover of Bon Iver's "Skinny Love."
"I loved the original and I'm not really sure why I was drawn to it, but it's just a really beautiful song. It was the first cover that I did on the piano," Birdy said in an interview with Aria Charts. The cover became a huge hit in the U.K., was played all over the radio and featured on popular TV shows like Being Human. Birdy's sweet voice clearly resonated with people, lacing an extra poignant quality to already emotionally significant scenes on screen, such as a funeral for a beloved character on The Vampire Diaries.
Her ability to connect with others' songs paid off, as her eponymous debut record of covers did tremendously well in Europe, peaking at No. 13 in the U.K. and No. 1 in Australia, where she is also incredibly popular, with "Skinny Love" being certified six times platinum.
Birdy is no stranger to soundtracks. Lending her voice to The Hunger Games franchise and to Pixar's Brave has shown her knack for underscoring the development of positive, strong female protagonists. But in all the time that she's become a mainstream force on the European markets, she's remained a much smaller indie phenomenon stateside.
There's good reason for her to succeed wildly here, though. Birdy frequently draws comparisons to Lorde because she is also a foreign (from the American perspective) musical prodigy, and is 18 to Lorde's 17. Both artists are talented singers, and both bring something unheard of to popular music. But although her contemporary from New Zealand has blown up in America, Birdy has only been nominated and still remains relatively unknown — and when she is known, it's largely for her covers. Those are sensitive and lovely, but her original songs are far more compelling, reflecting an understanding and appreciation of the human experience beyond her age — the tremble in her voice is only proof of how emotionally vulnerable she is in every song.
That's the side of her that's coming to American audiences en masse through the songs in The Fault In Our Stars. They are the perfect voice for main character Hazel (Shailene Woodley), another young woman whose strength comes from her honesty and her remarkable ability to accept her circumstances. She says that "pain demands to be felt," and Birdy is more than capable of taking up the mantle.
"Yeah, and I was just completely inspired by the story. 'Not About Angels' was really about how Hazel, the main character, feels like she's like a grenade, but her realizing that if you have something so true and beautiful, it should be cherished, so, for me, that was really inspiring." It's now her fourth most popular song on Spotify, with 850,218 streams and counting. And the whole soundtrack isn't even on the service yet.
With the staggering influence of The Fault In Our Stars, Birdy is poised finally to break out in America. It was only a matter of time — what she does best is connecting with people, letting them feel the weight of her words. "I think it's really nice with the songs to keep the meanings hidden," she explains. "And through words people can interpret them how they want to and try and work out what they are about." A lot of people are about to take on that challenge.