One Look at Uber Sign-Ups Reveals How Effective London's Taxi Protest Really Was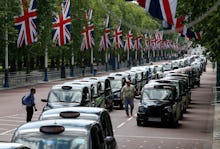 The news: For Londoners and tourists alike, Wednesday was a headache-inducing travel day in the city. In a new show of solidarity and anger against the taxi app Uber, around 12,000 London cab drivers suspended their service and took to the streets, leading to disruption in the city's central area.
Taxi drivers in London and elsewhere have argued that Uber has an unfair advantage. For instance, in order to become a licensed traditional "black cab" driver in London, one would have to memorize thousands of streets and landmarks, pass a grueling knowledge test and pay a hefty $55,000 upfront cost for the car. But London officials have allowed Uber drivers, who are considered independent contractors, to bypass these strict regulations — which many licensed cabbies see as unfair.
And this anger and the ensuing strike have led to an ungodly traffic jam that looked something like this:
But this is good news for Uber. While the taxi drivers' intention may have been to demonstrate how valuable their service is, the intense media coverage — and many journalists' decision to try and endorse Uber — has led to a spectacular backfire for the taxi drivers. Frustrated by the protests, Londoners were driven to use Uber instead, leading to a record-high 850% increase in sign ups for the app.
For its part, Uber is making most of the opportunity: In the lead-up to Wednesday's protest, the company took out ads in London newspapers to offer discounts. It has also criticized the cab drivers for causing the traffic jam, saying it's a "shame to bring London to a standstill." And for now, Uber looks like it's coming out of the conflict with new fans and customers:
And London is not alone. Black cab drivers in England's capital were joined on Wednesday by their counterparts in other major cities: Berlin, Paris, Lyon, Milan, Madrid and more. And they all have the same point: Uber's anti-competitive approach is destroying the European taxi market. 
"Everyone should play by the same rules," Richard Leipold, the chairman of the Berlin Taxi Association, told the New York Times. "You can't have competition between someone who pays all their taxes and someone who doesn't."
There is middle ground to be found here. Despite their differences, both sides have admitted that a compromise is possible. Uber has already rolled out UberTAXI, which can allow black cab drivers to take advantage of its platform. While it may not be a perfect solution, one thing is clear: the technology is here and it's not going away any time soon.
"No matter which way this goes, services like Uber are shaking up the markets, and it's likely traditional services will have to figure out a way to compete, or just hope that government rulings will come down on their side," wrote PolicyMic's Tom McKay last month.
While this might mean that London's storied black cabs might have to find a different mode of operation, it's certainly better than extinction. Both the public and the government want Uber to stay and cabbies are going to need to figure out how to fit into this new paradigm.