This Is What's Happening in São Paulo Right as the World Cup Begins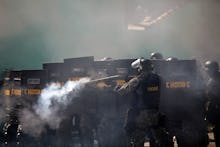 The news: Mass protests hit São Paulo hours before the first match of the 2014 FIFA World Cup begins, with armor-clad riot police using force and tear gas to disperse around 300 activists who tried to block the road to the facility. A CNN journalist was injured, while at least one of the protesters was arrested.
Brazilian authorities have been violently suppressing riots, strikes and protests for some time as the World Cup approaches, but a heavy security presence seems to have stifled much of the protests' momentum as the games begin. Some 100,000 police and 57,000 soldiers will be deployed to secure arenas across the country as an expected 500,000 foreign fans arrive to watch the matches. As BuzzFeed points out, citizens protesting the estimated $11 billion is just one of many problems facing the games, including unfinished stadiums, anti-World Cup graffiti and rotten food among many problems.
Image Credit: AP/Rodrigo Abd
The government has thwarted some of the biggest planned protests, including a transit strike in São Paulo and an airport strike in Rio de Janeiro. But according to the Getulio Vargas Foundation's Rafael Alcadipani, the protests have already sent a message.
"We have had World Cups in different countries over the past 50 years and no one until now was challenging FIFA as Brazilians are challenging FIFA," Alcadipani told Voice of America News. "So I think this is a very strong message to the world. Brazilians are saying 'We don't accept this kind of governance in football in the world.' We have to change FIFA to make football popular again."
Image Credit: Paulo Ito
Image Credit: Reddit/Via BuzzFeed
Image Credit: thinkmexican.tumblr.com