Kim Jong-Un Is Furious with His Weathermen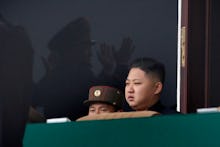 The news: Reports out of North Korea suggest that Kim Jong-un is mad about inaccurate weather forecasts, with the supreme leader apparently lambasting the country's meteorologists for "too many incorrect" reports.
A report in state-run newspaper Rodong Sinmun makes it clear that during a field visit, the despot gave "field guidance" to the national hydro-meteorological service, and that this was not something he was pleased to be doing. From the paper:
He said that there are many incorrect forecasts as the meteorological observation has not been put on a modern and scientific basis. ... "It is necessary to fundamentally improve the work of the Hydro-Meteorological Service in order to scientifically clarify meteorological and climatic conditions and provide accurate data for weather forecast and meteorological and climatic information required by various fields of national economy in good time," he noted.
As the Washington Post's Ishaan Tharoor notes, the paper has no excuse for inaccuracy. Kim's proclamations are noted at every second by attendants who record every word he speaks on notepads, a fashion that has become notably more widespread since the execution of Kim's uncle Jang Song Thaek for disloyalty and suspicion of a power-grab in December.
This is kind of unusual, right? In any other country in the world, sure. But North Korea has a tradition called "on-the-spot guidance," used by the country's state media to describe the advice that members of Kim dynasty dole out while touring state institutions and looking at things. Sometimes the advice is specific. Most times it is vaguely worded calls to improve the working efficiency or conditions of the subject of the visit. But the photos provided by Rodong Sinmun make it pretty clear that North Korea's weathermen were being chastised by Dear Leader.
So why is he so angry? Last month, North Korea recorded its worst spring drought in over 30 years, damaging thousands of acres of crops and potentially seriously harming the grain harvest. North Korea's public rations system, always strained, is also reportedly running even further short of demand. Endemic famine in the 1990s was a disastrous problem in the country. Mass starvation killed 2.5 to 3.7 million of the nation's residents. Though conditions have reportedly improved, malnutrition is common throughout the country.
Kim might blame the weathermen for not accurately predicting the scale of the drought. During the visit, he told them that their work must improve to "protect the lives and properties of the people from disasters caused by abnormal climatic phenomenon." Because obviously crushing poverty and economic instability is the weather's fault and not, you know, his or anything.