The World Cup's Nightmare Opener Revealed Soccer's Biggest Flaw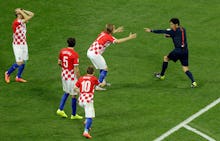 The World Cup got off to a nightmare start on Thursday. No, I'm not referring to the Sao Paulo protest that was met with tear gas and rubber bullets, nor the fact that half of the lights in the stadium turned off mid-game before eventually coming back on.
Instead, I'm talking about the outrageous refereeing calls that have fans and journalists around the world crying foul. In the 71st minute, with the score 1-1, Japanese referee Yuichi Nishimura awarded a penalty against Croatia for what was quite clearly a dive by Brazil's Fred.
The resulting goal changed the course of the game, likely robbing Croatia of a point it deserved.             
And it wasn't just the penalty. Ten minutes later, Croatia seemed to have scored the equalizer, only for it to be disallowed by a dubious foul on Brazil's goalkeeper. Other more debatable calls, including Neymar receiving only a yellow card for elbowing Croatia's Luka Modric when a red card (and a one-game suspension) was probably more warranted, made one thing clear: Nishimura was out of his league.
Image Credit: Newseum.org
I mean that figuratively and literally. Although Nishimura has big-game experience — he has worked the 2010 World Cup and the 2012 Olympics — his primary job is in the Japanese League. The J-League may be Asia's biggest league, but it pales in comparison to the top European leagues, where every game is scrutinized around the world.
Superficially, that's one of the perverse fascinations about the World Cup: Not only are players from around the world competing against each other, but they're doing so in front of referees who are also often working in front of a global audience for the first time. In doing so, the legitimacy of the game is being sacrificed.
"The referee for tonight's match is listed as a businessman," ESPN commentator Ian Darke, referring to an Argentine referee, said before a 2010 World Cup match between Ghana and Serbia. "You've got to love a businessman who can take six weeks off of work."
It's a classic Darke line: humorous, informative and yet also thought-provoking. Most of the referees in the World Cup have other jobs. They may hold the power to make a momentous call that will be debated for decades, but they don't make enough money to devote themselves to the task full-time. According to the Wall Street Journal, referees at this year's World Cup include an architect and a high school science teacher.
FIFA, of course, aims to choose the best referees it can, running more than a dozen seminars and training sessions in the lead-up to the World Cup to try to get all of the referees on the same page. What's problematic is that FIFA limits this search by choosing only one head referee from each country. The English Premier League gets one representative, as does Major League Soccer, as does the Iran Pro League. It doesn't matter that the "second-best" referee in Spain's La Liga, whomever that may be, is accustomed to the pressure of making tough calls in front of massive crowds and worldwide TV audiences on a weekly basis. That referee isn't in Brazil.
In practice, FIFA's method of diversity over meritocracy has far too often ended in disgrace. In the 2010 there was the infamous offside call made against the United States by Koman Coulibaly. Coulibaly is a financial inspector from Mali and his experience was limited to the Malian Première Division and the Africa Cup of Nations. He has yet to make a World Cup appearance since, not that that is much consolation to American fans, whose team needed a last-gasp miracle to escape the group. England fans, meanwhile, are still wondering how Uruguayan Jorge Larrionda didn't see that Frank Lampard's strike against Germany in 2010 crossed the goal line.
There's no easy solution to solve this problem. But what would happen if the referees in the tournament were limited to ones who worked in the biggest, most taxing leagues in the world? That means referees who work in England, Spain, Germany and Italy at the top. Maybe add Brazilian, Mexican, Dutch and French referees too.
By virtue of having moved up the refereeing ranks in these very competitive, closely monitored leagues, these officials will have earned World Cup duty. Top referees may not be infallible — how did England's Howard Webb and his team of officials manage to miss Nigel de Jong's kung fu kick in the 2010 World Cup final? But at least they're experienced.
That's the way it works in the majority of sports around the world — only the best of the best are even considered for the Super Bowl or a Grand Slam final — so why should the planet's biggest sporting event be any different? It shouldn't.