This Viral Photo of Brazilian Inequality Wasn't Taken at the World Cup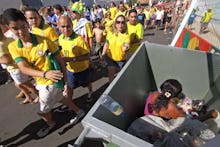 There's a good chance you've seen this photo on your Facebook feed. A mass of Brazil soccer fans clad in jerseys and celebratory hats fills the street as one idly throws out a water bottle — into a dumpster where a woman is rooting through the trash. It's the perfect symbol of the inequality highlighted by bringing the World Cup to Brazil.
The only problem? The photo's not from the World Cup.
Peadar Grogan, a journalist at Storyful, set the record straight in a post on Google Plus. The photo isn't a fake, but it's a year old. It was taken during the 2013 Confederations Cup, which was held in Brazil and served as sort of a tune-up before the big show.
Stark contrast: Other images have emerged in the lead-up that paint a similar picture. Perhaps the most famous is the graffiti done by Brazilian Paulo Ito on a São Paulo schoolhouse. No, hungry Brazilians can't eat soccer.
Image Credit: Paulo Ito
In this photo, taken hours before the first World Cup match, protesters tear apart a Brazil jersey.
Image Credit: Leo Correa/AP
Another work of graffiti shows the majesty of Brazil's shiny new stadiums set against a bleak foreground of living conditions.
Image Credit: thinkmexican.tumblr.com
(There are plenty more images of harrowing protests and anti-World Cup graffiti.)
The numbers: Brazil has spent $11 billion preparing for the World Cup, with high-end tickets going for more than the country's average monthly salary, according to Mother Jones. Brazil threatened 250,000 citizens with eviction, and eight workers have died in the country constructing stadiums and other infrastructure for the tournament.
The troubled lead-up has taken its toll on public opinion. While nearly 80% of Brazilians supported hosting the Cup in 2008, one year after the country's bid was approved, less than half do now. Whether those dour views will remain if the home team keeps winning remains to be seen.