There's Something Very Different About This Year's England World Cup Team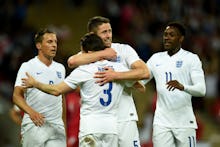 This year's England World Cup team is different. John Terry and Rio Ferdinand are working in rival television studios rather than anchoring the team's defense. Ashley Cole is on a beach somewhere, his left back position filled by younger, faster models. Perennial squad members such as Jermain Defoe, Joe Cole and Michael Carrick are gone, their careers at various distances from the top of the hill. The upshot of all this is that England — whisper it — might just be likable again.
Over almost a decade, the many and varied failures of England's so-called golden generation caused a near total breakdown in the relationship between the national team and its fans. Cole is among the players who've been individually booed at Wembley home games, and it's usual for the team to be jeered off after anything less than the perfect result.
But the nadir of the relationship came four years ago in Cape Town when Wayne Rooney called fans out for a perceived lack of support after a tame 0-0 tie with Algeria.
Compare Terry and Ferdinand, for so long automatic picks in the center of England's defense, to the duo that has replaced them for Brazil, Chelsea's Gary Cahill and Phil Jagielka of Everton.
Before the 2006 World Cup in Germany, Ferdinand seemed more concerned with plugging his Punk'd-style reality TV special and the celebrity WAG-fest that was the team's camp in Baden-Baden than staying focused on the tournament.
And where do you start with Terry? He's alleged to have slept with a teammate's ex, he stood as the accused in a racism trial, a newspaper said he'd accepted cash to give people a tour of Chelsea's stadium and even his close family have made headlines for bad behavior. Outside Stamford Bridge diehards, there's little to no love for Terry amongst English fans.
Image Credit: Getty
But Cahill and Jagielka couldn't be more different from their predecessors. Both are solid pros who have learned their trade at smaller clubs before getting a move to a big team on merit. They're nowhere near the level of Terry and Ferdinand at their peak, but it's refreshing for England fans to get behind players who have reached the national team by virtue of years of quiet hard work.
Further upfield, Liverpool's Daniel Sturridge and Raheem Sterling, Arsenal's Alex Oxlade-Chamberlain, Manchester United's Danny Welbeck and Southampton's Adam Lallana are all skillful, technical attacking players who are untainted by the World Cup failures of the previous generation. They seem to have learned from the hype surrounding the 2006 squad, which was whipped up again in 2010 after an impressive qualifying campaign and being drawn in a group that was mocked by the U.K.'s leading tabloid.
There are no autobiographies due to be released by the players in the 2014 holiday season (in 2006 Ferdinand, Ashley Cole, Lampard and Rooney all had book deals penned before the tournament to chronicle and cash in on the glorious campaign that never was) and the England squad exudes a humbleness that hasn't been there in a long time.
Most endearing, though, is the story of 32-year-old Rickie Lambert, who signed for Liverpool — the club he supported as a boy — at the end of the season following 28 goals in two Premier League seasons for Southampton. But Lambert never played above England's League One, two levels below the EPL, before he was 28 and, when he scored with his first touch on his international debut against Scotland last year, it was what they call "Roy of the Rovers stuff" over there.
England's squad for Brazil doesn't look as impressive on paper as it did at the height of the golden generation. None of its members would get close to a World or European XI (in 2006 you could have made a decent case for at least two or three), and it wouldn't even be a huge shock if the Three Lions failed to make it out of Group D, with the team up against Italy's tournament nous Saturday in its opening game, as well as the attacking power of Luis Suarez's Uruguay next week.
But it's a easy team to root for and, for many England fans, that'll be enough.