How One Insanely Popular Music Festival Is Keeping You From Seeing Your Favorite Bands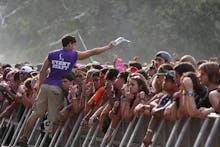 Chances are you didn't get a ticket to Lollapalooza this year. When three-day passes to the $22 million mega-fest went on sale in March, they sold out within an hour; one-day passes sold out in two.
But that doesn't just mean you won't be going to Lolla. It means that, if you live near Chicago, you won't be seeing Lorde this summer. You won't be seeing Spoon, Broken Bells or Chance the Rapper, either. In fact, you won't be seeing a lot of the more than 100 acts playing Lollapalooza this year.
For that, you can thank Lollapalooza's radius clause: A part of every band's contract that reportedly bars festival performers from playing within 300 miles of Chicago for six months before the festival and three months after it. For the geographically disinclined, that's an area that stretches as far as Detroit, Milwaukee, Madison, St. Louis, Iowa City and Indianapolis. It's a clause that gives them a near-dictatorial control over music in America's midwest.
Image Credit: FreeMapTools
Radius clauses are neither new nor news. Every major festival imposes them, rightfully, to keep their big-money acts from playing local shows that could harm ticket sales. If, say, Skrillex were to play Chicago's 3,500-seat Congress Theater for $25 a pop the day after Lolla, the festival might lose out on a handful of $100 passes. Multiply that by 130 bands, and festival promoters C3 Presents have a problem. That's where the radius clause comes in — it preserves demand by capping supply.
While most festivals enforce restrictions of a few weeks for the cities in which they operate, Lollapalooza's embargo — anywhere from 90 to 270 days and 90 to 300 miles — is theoretically broad enough to keep Chicago up-and-comer Chance the Rapper from performing in his hometown for nine months this year. It's bad for the artists and for the fans.
It doesn't look to be changing either. Chicago music critic Jim DeRogatis has covered the clause at length, and even helped spark a 2010 antitrust investigation by Illinois Attorney General Lisa Madigan. But the case was apparently closed without action, leaving Lollapalooza in control of the Midwest concert market.
Given the legal scrutiny and criticism from local club owners, the Chicago Park District might've addressed the clause in their 2012 contract renegotiation — a deal inked, despite promises to the contrary, under the watch of Chicago Mayor Rahm Emanuel, whose brother, Ari Emanuel, is CEO of Lolla co-owner William Morris Endeavor. On the other hand, the deal did grant Lollapalooza exclusive access to Grant Park, Chicago's largest public space, against competing festivals through 2021, plus an evergreen clause the lets the city renew Lolla's contract on a yearly basis after that. But at DeRogatis' last check, the radius clause had gone untouched. DNAinfo reported the same restrictions in 2013, and as of this posting, Lollapalooza, C3 and William Morris Endeavor hadn't responded to requests for comment.
Rahm Emanuel at Lollapalooza. Image Credit: Getty
And through all of this, the logic for the clause has never been adequately defended. In a 2008 interview, C3's chief talent buyer Charles Attal defended the clause: "It's to protect us. … We can't let 130 bands go do side gigs, because then why do Lolla?"
It was a valid point back before the festival was selling out consistently every year. But this year will be Lolla's fourth consecutive year of hitting its 300,000-person max. And this was the second year it sold out its three-day passes before even announcing a lineup.
"It might loosen up a little bit once this thing gets to the point where it's sold out," said Attal. "But we're not taking it out of our contracts."
That assumes, then, that had headliners OutKast announced a June 29 concert in, say, Milwaukee the month before Lollapalooza passes went on sale, the ticket value could've plunged. Except that OutKast did exactly that in February with zero impact on Lolla ticket sales, which soared before Big Boi and Andre 3000 ever headlined the bill. As of this posting, tickets still remain for OutKast's Milwaukee Summerfest date. Lollapalooza, on the other hand, has been sold out for months — just like it was last year, and the year before that and the year before that.
But reports of the clause's use still surfaced. Despite the festival's unwavering success, the aforementioned loosening up apparently hadn't happened by 2012, when the then-midlevel Gaslight Anthem pulled out of Kokomo, Indiana's Weberfest — a free festival within the Lolla radius they were scheduled to play the same weekend as Lolla — despite three-day, Friday and Saturday passes having sold out.
"I was told by the band members [about] not being able to play," T.A. Weber, Weberfest's primary buyer, told PolicyMic via email. "I, personally, can't imagine organizers telling some band they can't play a gig within 90 miles [and] 90 days of the festival. It seems difficult to believe."
Image Credit: Getty
Some local club owners feel the situation has improved. Chicago club owner Bruce Finkelman says things are getting better: "C3's aware of the issue, and they're doing what they can to make sure the clubs partake in Lollapalooza." He's talking about Lolla's official after shows — shows that C3 helps local clubs present after the park's 10 p.m. curfew.
But even that enforces an "if you can't beat them, join them" sort of mentality. In DeRogatis' opinion, C3 uses the shows to "assuage angry Chicago club owners … after usurping much of their summer concert calendar." The clubs appreciate a share of Lolla's audience. This year, Finkelman will host five after-shows between his two clubs, three of which have already sold out — business he's grateful for. Still, it's hard to imagine three sold-out after-shows offsetting a months-long moratorium on the likes of Childish Gambino.
And that's precisely the kind of artist that's suffering. In some cases, C3 has waived the radius clause. This month alone, OutKast, Arctic Monkeys and Nas will play Summerfest in Milwaukee (90 miles away). Chvrches will return to Illinois in September to headline Urbana-Champaign's Pygmalion Festival (130 miles away). Kings of Leon will play Lolla and Detroit in the very same weekend (280 miles away).
But for every superstar who's dodged the clause, there's a midlevel band — Bombay Bicycle Club, Foster the People, Rebelution, Flosstradamus, The 1975, The Kooks, Phosphorescent, The Temper Trap, Wildcat! Wildcat!, Temples, The Districts — whose summer tour schedule, mysteriously or not, skips over Detroit, St. Louis, Indianapolis and Milwaukee. In a music industry that's increasingly dependent on live concerts as almost exclusive sources of revenue, that's a huge blow.
The extent to which the clause is still enforced is unknown, but it almost definitely still exists. That's a problem because it's depriving a significant portion of the country from seeing the greatest and most relevant acts in music. It's a problem because it encourages the winner-take-all economy of modern music. And it's a problem because it's totally unnecessary.