Startling Before-and-After Photos Show What Climate Change is Doing to Our Planet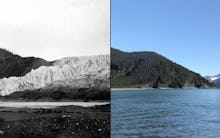 Contrary to what many skeptics would have you believe, climate change isn't just a theory. It's a global phenomena with observable effects that span every corner of the planet. With droughts and freak weather becoming more common with each passing year, there will be unforeseeable impacts on human civilization — and what's more, some of them are already observable. Lest we be confused by congressional Republicans who continue to question whether climate change really exists, here are some concerning before-and-after photos showing the ways in which the world has already changed.
1. Alaska's Muir Glacier
From 1941 to 2004, the Muir Glacier retreated seven miles and its thickness decreased by about 2,625 feet. Overall, 98% of Alaska's glaciers are melting. Data from NASA's GRACE satellite indicates that on average, 46 gigatons of Alaskan glacier ice was lost each year between 2003 and 2010.
2. Pine Island Glacier calving, Antarctica
3. Huge stretches of Alaskan forest
Both sides of the Tanana River south of Fairbanks were ravaged by fire in 2012 and 2013. The Dry Creek Fire on the left burned over 48,000 acres of forest, while the Stuart Creek 2 Fire burned around 85,000 acres.
NASA says that "Extreme terrain, high vegetation and dry, windy conditions have impeded firefighting efforts. More than 70 wildfires have burned more than 1 million acres in Alaska so far during summer 2013."
4. Chile's O'Higgins Glacier
Chile's O'Higgins Glacier is rapidly retreating from the sea. Pictured is a gigantic stretch of the glacier, which comprises one-quarter of the entire Patagonian ice field, disappearing from Nov. 9, 1973 to Oct. 8, 2007. The entire glacier lost around nine miles from the start of the 20th century to 1995, and is expected to lose much more as climate change accelerates.
5. McCarty Glacier melt, Alaska
6. Another view of the McCarty Glacier
7. Rocky Mountain National Park
The image above depicts healthy pine trees in the northwestern United States and western Canada. The image below depicts a hillside in the park ravaged by Mountain Pine Beetles, which are rampaging unchecked thanks to warmer winters. In British Columbia alone, the beetles have annihilated 13 million hectares of trees in about a decade. Evolutionary geneticist Jeffry Mitton told ScienceMag that it is now possible to fly for an hour or more over the region and see hardly any living trees.
8. The Matterhorn
Climate change is also weathering away one of the world's most well-known mountains. The image above depicts the Alps peak on Aug. 16, 1960. The image below depicts it on Aug. 18, 2005, after melting glacier water sunk into cracks, creating bigger fissures in the peak's rock.
9. Atmospheric Carbon
Infrared images from July 2003 and July 2007 show that atmospheric levels of carbon dioxide are rising rapidly. According to NASA, the color bar from 2003 had to be adjusted otherwise the 2007 image would have been over-saturated with red, making it difficult to distinguish atmospheric concentrations amongst regions.
10. California's snowcaps
According to Fast Company:
Climatologists have been worried about the state's declining snow supply for years. In 2013, NASA's Jet Propulsion Laboratory created the first-ever maps of California's Sierra Nevada snow in order to measure how fast it might melt and to keep an eye on the looming drought. In the next seven years, NASA also plans on launching four new satellites into space to help monitor California's water crisis.