The Crisis in Iraq, as Told by Teens on One of the Internet's Favorite Anonymous Apps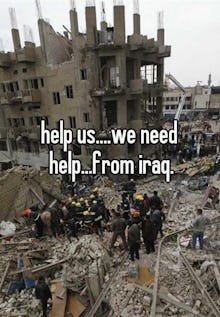 The news: The situation in Iraq has gone from bad to worse. As the ISIS terrorist group becomes more powerful and violent — ISIS may have executed 1,700 Iraqi government soldiers — the Iraqi government has responded by censoring Internet use, including social media outlets such as Facebook, Twitter and YouTube, theoretically to prevent insurgents from using these sites as an organization or propaganda tool.
But one app is still available: Whisper, an anonymous secret sharing app often used by adolescents. And young Iraqis have taken to it, sharing their feelings about what's happening in Iraq in the one of the only ways they can. 
Neetzan Zimmerman, the site's editor in chief, posted some of the Whisper messages from Iraq and wrote, "with the identity-based social media outlets being blocked by the Iraqi government 'for security purposes' residents of Baghdad and other cities turned to Whisper to get the word out and express concerns about their volatile country and its uncertain future." 
Image Credit (all): Neetzan Zimmerman/Whisper.sh
The situation in Iraq is bleak, but that hasn't stopped people from voicing their opinions on social media. And after seeing what happened with the Arab Spring and the Boko Haram kidnappings, maybe a social media campaign is their best hope.