If You Loved 'The Fault in Our Stars,' You Should Read This Tearjerker Next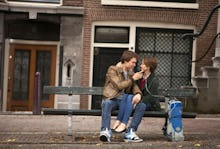 There is something addictive about the heart-on-your-sleeve gravity of first love, and something equally addictive about the simplicity with which YA literature pinpoints all those feelings.  
John Green's The Fault in Our Stars is the latest marquee win to bottle up that YA angst — a win to the tune of 9 million books sold and $81 million already made on the movie.
Now, as we pocket the Kleenex and dry our eyes from the cancer-stricken love story of Hazel and Gus, we also scan the shelves for what YA romance to fall for next in order to fill the TFIOS shaped hole in our hearts. The answer is Eleanor & Park. 
Image Credit: Goodreads
Eleanor & Park by Rainbow Rowell is another breathtaking meet-cute. Heartbreakingly honest, like all the best YA romances it tells the love story of two misfit teenagers. Set in 1986, the narration goes back and forth between Eleanor and Park, a pair who fall in love much like Hazel and Gus: "slowly, and then all at once."
Published in 2013, the novel spent 12 weeks on the New York Times bestseller list and developed a following of diehard fans — a year after publication it is still a well-worthy read and the perfect chaser to Green.
Eleanor and Park's love story first blossoms over comic books and punk music, their private escape from a school where neither quite fits in. Park is passably popular, but being Asian and having individual interests separates him quickly from the peers with which he grew up. Eleanor, a new arrival to the school, immediately stands out thanks to her plus-size frame and wild mane of red hair — a combination that makes her an easy target for jokes and mean nicknames ("Big Red"). 
Rowell describes in enchanting detail every moment of their slow fall into love, with the kind of minutiae that brings you back to high school in 10 words or less: Park describes holding Eleanor's hand as "like holding a butterfly. Or a heartbeat."
Like The Fault in Our Stars, the romantic storyline is grounded in reality by difficult circumstances all with the added dimension that living under your parent's roof brings to teenage love.
Eleanor's home life is troubling, to say the least. She endures an abusive, alcoholic stepfather and tries to escape by hiding in her room; a room she shares with many younger siblings who demand her care. It's claustrophobic, panic inducing and felt on every page. Park's family and his parents marriage, on the other hand, show what can happen when love isn't so star-crossed. 
One of the biggest takeaways from The Fault in Our Stars is that we can't avoid pain — pain demands to be felt — but it shouldn't be feared. To quote Green's novel, "You don't get to choose if you get hurt in this world ... but you do have some say in who hurts you." 
Image Credit: AP Images 
For Eleanor and Park, their love provides a momentary escape from that pain symptomatic of the world around them. Their mutual support gives them the confidence to challenge norms and to push back on the hurt. 
Green himself is a fan of Rowell's book. In The New York Times Book Review, penned by Green, he wrote, "Eleanor & Park reminded me not just what it's like to be young and in love with a girl, but also what it's like to be young and in love with a book."
Like The Fault in Our Stars, Eleanor & Park alternates between hilarious and heartbreaking, and it keeps you turning the page.
The movie rights have already been bought by DreamWorks and it will begin shooting in 2015. As the summer months stretch ahead, and The Fault in Our Stars moves into the background Rowell's words will fill your heart once again, in the very best of YA ways.