Starbucks Just Gave Employees an Incredible Perk Few Other Companies Can Match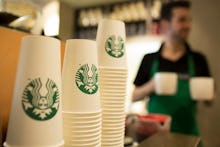 The news: If you work at a company for a certain number of years, it's not uncommon for to be offered tuition reimbursement as an employment benefit. Deals like that often come with strings attached, but not at Starbucks.
On Monday, the company announced a partnership with Arizona State University that will provide the option of a free online college education to all of its 135,000 American employees. As long as they work at least 20 hours a week at Starbucks, have the academic requirements to get into school and have at least two college credits, their education will be completely free — even if they leave for another company right afterwards. Those with no college credits will receive partial tuition.
The employees' academic experiences "would be accreted to our brand, our reputation and our business," Starbucks CEO Howard D. Schultz said in a statement. "I believe it will lower attrition, it'll increase performance, it'll attract and retain better people."
Why is Starbucks doing this? There are other companies that offer similar benefits, such as Southern New Hampshire University's "College for America" program, which allows employees from companies such as McDonald's and Dunkin Donuts to take online associate's and bachelor's degrees at their own pace.
But Arizona State, which has 11,000 students and 40 undergraduate majors, has more academic options and resources, and the flexible partnership addresses a deep need among Starbucks' ranks. "Our partners have told us that help earning — and more importantly finishing — their college degree is the most important benefit we could offer beyond the comprehensive health care coverage and our Bean Stock [company stock] programs we introduced for our full- and part-time partners more than two decades ago," Starbucks spokesman Jim Olson said in a release.
And there's a good reason for that. Only 25% of current Starbucks employees have a bachelor's degree, despite the fact that 70% are current or aspiring students. The program would be a huge boon for the employees who are trying to work and attend school simultaneously, or for those who are working to save up the money for school.
Starbucks has a long history. The company has been heavily criticized in the past for being anti-union and for discouraging promotion of union activity. They have even gone after employees with union-related backgrounds. But while the company may have a long way to go in terms of workers' rights, this is still a huge step in terms of addressing employee needs.
"There's no doubt, the inequality within the country has created a situation where many Americans are being left behind," Schultz said in the statement. "The question for all of us is, should we accept that, or should we try and do something about it?"