Japan Fans Did What No Other Soccer Fans Would After Their World Cup Team Lost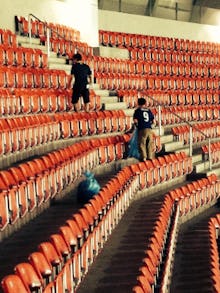 The news: When American fans win a major sporting event, they often like to celebrate by turning over cars and burning everything in sight. When Japanese teams lose, it turns out that fans commiserate by cleaning the stadium.
On Saturday, Japan lost its first World Cup match with the Ivory Coast by 2-1. While that could have been a demoralizing start for most sports enthusiasts, a bunch of Japanese fans who attended the event at Arena Pernambuco in Recife, Brazil decided to respond with an unbelievably classy move: cleaning up the stadium.
Image Credit: Imgur
Image Credit: Imgur
Image Credit: Imgur
The team also displayed good form by bowing to the fans and thanking them for their support as clean-up began. This is what winning losers look like:
Image Credit: Getty
Why did they do this? Japanese sports fans — nicknamed the Blue Samurais — are famous for their cleaning etiquette. It's customary for fans to clean up at events at home and they have demonstrated the practice at other World Cups before. But it's still jarring to see this:
Image Credit: Imgur
As opposed to this:
Or this, after the University of Connecticut won the national championship this year: 
Or as opposed to the time Phillies fans trashed the streets of Philadelphia after the team's 2008 World Series victory.