One of America's Favorite Comics Just Took a Huge Step Forward for Diversity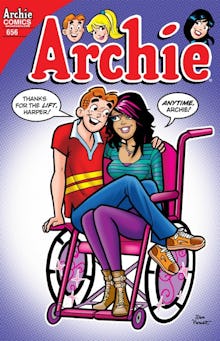 This is encouraging: In a move sure to be discussed by critics and fans alike, beloved comic Archie has introduced its first character with a disability. 
Archie Comics will introduce Harper, a multiracial girl who uses a wheelchair and crutches, in Archie #656, to be released on June 18.
In an interesting twist, Harper's character is said to have been inspired by Toronto children's author Jewel Kats. Kats, 34, suffers from chronic pain, arthritis and low bone density in her right leg, but doesn't shy away from her backstory. Indeed, Kats has written many books, including Fairy Ability Tales, Cinderella's Magical Wheelchair and The Princess and the Ruby: An Autism Fairy Tale, that all seek to empower children who may have similar conditions and differing abilities. 
When Kats met Archie's writer and character artist, Dan Parent, at a fan expo last year, she wheeled up to him and stumped him with a simple question: Why doesn't Archie have a disabled character? The thought stayed with Parent, and he decided to work together with Kats to make sure that Harper's character was treated with the respect she deserved.
However, the Archie writers were careful to point out that her disability was not Haper's defining characteristic. "Harper is, first and foremost, a funny, fashionable and witty teenager. The fact that she's disabled is only one part of her story," Archie Comics CEO and publisher Jon Goldwater said in a statement.
Image Credit: Archie Comics via ThinkProgress.org
Archie's efforts to respect diversity and inclusion are a welcome shift in the cartoon and comic world, where minorities and other underrepresented communities are often hard-pressed to find themselves reflected in stories. Archie introduced the strip's first gay character, Kevin Keller, to the Riverdale community in 2010, suggesting the publisher is truly committed to moving ahead with the times, despite the comic's more traditionalist origins, which date back to 1939.
At Archie, Parent and the team behind the comic have big plans for the future of the series. "We're definitely encouraged to introduce as much diversity as we can," he told ThinkProgress. "Jon Goldwater has been our new CEO for the last five years, he came in with a forward-thinking attitude: 'We want Riverdale to be part of the 21st century.' We're definitely always trying to increase diversity in Riverdale: different ethnicities, disabled characters. We want Riverdale to look like the world." 
Image Credit: Archie Comics via ThinkProgress.org
Archie's increasing diversity is part of a trend in comic books, following in the footsteps of such breakthrough characters as Miles Morales, the half-black, half-Latino star of the Spider-Man reboot Ultimate Spider-Man, as well as the Captain Marvel comics, which now feature a female Captain Marvel alongside Pakistani-American teenager Kamala Khan as Ms. Marvel. 
Meanwhile, online grassroots efforts such as the "We Are Comics" Tumblr have continued to press for greater representation, both in comics and in the comic book creator community. In some ways, character with disabilities are the next frontier for comic book diversity advocates. This spring, Nava Silton set up a Kickstarter to promote her own series, Real Abilities, which features "five children with disabilities who harness their special abilities to save their school from bullies."