Michael Sam Finally Silences His Critics In Best Way Possible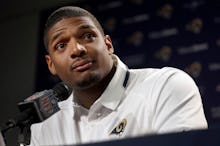 Michael Sam finally did the one thing his detractors said he never would. 
The SEC Co-Defensive Player of the Year and unanimous All-American from the University of Missouri just signed a historic deal with the St. Louis Rams, officially making him the first-ever openly gay professional football player in the NFL.
Sam was one of 11 NFL draft picks for the Rams, all of whom were signed. After sealing the four-year, $2.65 million deal, Sam tweeted out this message of thanks to his supporters:
The groundbreaking defensive star has been dogged by speculation — not to mention skepticims — from the start. Indeed, despite his dreams and talent, Sam's path into the NFL has been far from smooth sailing. Soon after he was drafted, Sam joined fellow Rams rookies in an introductory press conference, where the questions quickly turned to the controversy over Sam's sexuality. He acknowledged the negativity, but said he would keep his eyes on the prize.
"I'm determined to be great, I'm determined to make this team and I have every confidence in myself that I will make this team," he said, exhibiting some discomfort with questions about the public outcry. "So when I do make it, and I put my pads on, then you'll see No. 96 running down that field and making big plays for this team."
Last month, after the phone call announcing he had been drafted, a tearful Sam immediately embraced his boyfriend for a quick, celebratory kiss. What was otherwise a common public display of affection attracted swift criticism of both Sam and of ESPN for airing the moment. 
Image Credit: ESPN
Ken Blackwell of the Family Research Council told CNN that the kiss was "inappropriate" and "over the top."
Joining Blackwell in outrage was former University of Texas quarterback Case McCoy, a star player who wasn't drafted along with his other eligible teammates — a first for the Texas program since 1937. He took to Twitter to express his disappointment with the aired kiss.
But Sam stood firm despite the criticism, relying on support from the University of Missouri football program and fans, as well as emphatic support  from various public figures, including first lady Michelle Obama.
Within sports media, one of Sam's most vocal supporters has been Dallas-based sportscaster Dale Hansen, who offered what many called an "unexpected" defense of the athlete after being picked number 249 in the NFL draft — out of 258 total players drafted.
With Thursday's signing, Sam now can put to rest all the questions about his abilities, proving once and for all that he really does have the skills to make it on a professional level — and silencing rumors that he was drafted as a publicity stunt. Come fall, the nation and likely the world will be watching as the player's first footsteps on the field begin blazing a trail for many openly gay football players to come.