This 911 Dispatcher's Terrible Call Shows Exactly How Not to Help a Rape Victim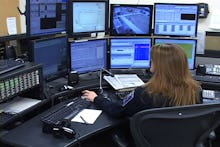 When a rape victim near the Ohio State University campus called 911 for help, she was subjected to some very tough love. In fact, the traumatized victim was told by the dispatcher she needed to "quit crying."
In the 911 call, obtained by local media, the 20-year-old college student reported that "a small male, white boy with a white shirt" broke into her friend's home off campus, held a gun to her head and forced her to perform sexual acts. Clearly traumatized by the experience, the young woman told the 911 dispatcher that she was nervous, to which the dispatcher replied, "Ma'am, you're going to have to quit crying so I can get the information from you."
As the victim wasn't in her own home, she wasn't exactly sure of her location or surroundings. When asked how the perpetrator entered the house, she said, "I have no idea. I have no idea. I have no idea. The back door." The dispatcher said, "Well, they're not going to be able to find him on the information that you've given."
A 911 supervisor told WSYX that the call will be reviewed, but the dispatcher will not get a written warning because the victim was helped and the perpetrator was caught and charged. Although there will not be official repercussions for the dispatcher, the exchange has drawn attention due to its insensitivity towards the victim.
"Don't you understand how horrified I am?" the victim said at one point. "I'm a 20-year-old from Upper Arlington. I don't know what you deal with every day but the kind of sympathy you have is zero."
And it's a far from an isolated incident. Of the 240 million calls that are made to 911 each year, the vast majority are successful. But this unsympathetic dispatcher from Ohio is not alone in her lack of sensitivity. 
A Connecticut state trooper was suspended without pay after he told a caller, whose friend had been badly injured in a motorcycle accident, "too bad." A dispatcher from Virginia was similarly suspended without pay after posting a comment to her Facebook page suggesting that the family of a man shot and killed by police should pay for the bullets used and the gas it took police to get to the scene. She later apologized and said the the post was intended to lighten the mood.
In April, a Dallas police sergeant was put on administrative leave after he failed to send out police officers in response to a 911 call from a woman whose pregnant granddaughter was later found murdered. And in a particularly high-profile example, a 911 operator in Cleveland faced criticism for her cavalier response to the frantic call from Amanda Berry, who phoned the emergency services in a rush after escaping from 10 years of captivity while her kidnapper, Ariel Castro, had briefly stepped out. 
Answering emergency calls is undoubtedly a stressful job. The 911 responder's primary responsibility is to isolate the important information in order to dispatch help as quickly as possible, not to offer over-the-phone counseling. But if you spend your days talking to crime victims — and being the first person those victims speak to after the offense — a little sympathy wouldn't go amiss.