Kanye West's Disastrous Reception at Bonnaroo Was Exactly What He Wanted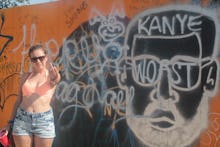 At 10:30 on a brisk June night in Manchester, Tenn., Kanye West was standing in a large field, silhouetted against a monolithic array of of lights, yelling, "What's the new cool?" A good hundred yards away, the words "Fuck Kanye" were scrawled across a blue wall. Ninety thousand people couldn't think of a better answer.
Image Credit: Getty
Kanye West has had a troubled relationship with Bonnaroo since 2008. That year, after the release of his 808s and Heartbreak, he'd been scheduled to make his first appearance at the festival. Pearl Jam ran late that night, and West's staging was so elaborate that it took his team hours to set up. He didn't go on until 4:30 a.m., by which point fans had begun a steady chant of "Fuck Kanye." They threw bottles at the stage, even breaking part of his set. They wrote it across the porta-johns. They stayed late enough to heckle him until the sun rose. Weeks later, he took to his blog to write "this Bonnaroo thing is the worst insult I've ever had in my life. This is the most offended I've ever been … this is the maddest I ever will be."
He might have saved that vitriol for six years later. On Friday night, he emerged wearing a mask to a crowd peppered with Bonnaroovians holding "Fuck Kanye" flags, wearing "Fuck Kanye" t-shirts and even hoisting signs that read "Kanye is a gay fish," a reference to an old South Park joke. Kanye seemed unperturbed — or rather, no more perturbed than usual. For the first part of his set, he ripped through some of his more blistering recent cuts. After half an hour of punishing beats and passionate performance, Kanye launched into "Runaway." Then he addressed the audience for the first time.
Image Credit: Liran Okanon
"How many people traveled from out of town to get to this motherfucker? How many of y'all don't give a fuck about what the press say? Look at how they try to make me look. They try to make me look crazy … I don't see them performing for 90,000 motherfuckers."
This was the first interjection. It went on for around 10 minutes. The crowd began to thin, and they kept leaving even when he started to play again. He broke his set two more times that night to elaborate on the same idea, even demanding that anyone who was planning to write about the evening raise their hands, yelling, "Where the press at? Fuck the press!" He put his mask back on, he sang his old songs like they were vicious cuts off Yeezus, replacing joyful horns with the record's man-eating synth and changing the lyrics. "Well that's a pretty bad way to start the conversation" became "That's a fucked-up way to start the conversation" on a seething "Power." He cut all references to Jay Z out of his songs. Every song was frustrated and powerfully performed, even the old ones. And for the back half of the concert, the field emptied steadily.
But after 2008, it was a response he could have expected. So why did he come back?
Image Credit: Liran Okanon
Kanye West has made a career out of long odds. As the middle-class son of an English professor, many thought Kanye too privileged to really rap. He faced a lot of skepticism, too, due to his interest in fashion, leading indirectly to some homophobic jabs like South Park's gay fish. His longest odds, though, came after a near-fatal car accident in 2002. He broke his jaw in three places. His doctors wired his mouth shut, but according to Kanye, they first dropped him on the floor and then performed the procedure incorrectly. They had to break it again. 
It was only when Kanye's mouth was shut that he really had something to say. Two weeks later, he recorded his first hit, "Through the Wire." The song sampled Chaka Khan's "Through the Fire" and launched his career and his famous soul production style. Notably, he shifted the pitch of her performance up — an early kind of vocal distortion that eventually gave way to the darker distortions of the production on Yeezus. That year, the back cover of his Get Well Soon mixtape featured a picture of his own bloated face. Less than two years later, he was back at the Grammys behind The College Dropout, winning. 
Image Credit: Roc-A-Fella
After the accident, the odds were so against him that he could play the resilient underdog on his brilliant The College Dropout. Nobody wanted 'Ye to succeed, he claimed, and his passion had a magnetic defiance. But since becoming hugely successful, he's been trying again and again to recreate that first moment of defying all the odds. That's what the masks are about — the shutter shades from "Stronger" blinding his eyes, the pixelated mask from Yeezus, the distorted auto-tuned voice on the three-minute "Runaway" outro, each a new wire, a new symbol of being silenced and restrained despite all efforts to be loved and understood. 
That's what makes him a compelling artist. Kanye West always needs to prove something, and his art succeeds for it. My Beautiful Dark Twisted Fantasy worked because all the world saw him interrupt Taylor Swift at the VMAs and witnessed the press turn on him. Then, they saw him redeem himself with songs about fame and over-exposure like "All of the Lights" and "Monster." As he put it, "Everybody knows I'm a motherfucking monster."
But where Jesus walked, Yeezus runs. When you're one of the biggest names in music, viable obstacles are in short supply. With all the success in the world, Kanye has to seek out his own fresh opposition, even as he still gets plenty that he doesn't deserve. Part of his ambition is to overcome, but sometimes ambition becomes obsession. That's why he came back to Bonnaroo with a six-year chip on his shoulder. He came to be hated.
Kanye's set ended 30 minutes early that night. Kim Kardashian followed him off stage with two goblets of celebratory red wine. Presumably he left Manchester soon after. But in a tent less than a mile away, after Kanye's distorted voice had faded, Chaka Khan was just taking the stage. Twelve years after "Through the Wire," only she was singing clearly.