All Eyes Are on Brazilian Women During the World Cup — But for All the Wrong Reasons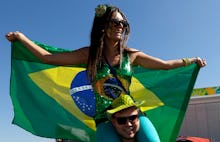 If we were to believe the advertising around the World Cup, we'd think that soccer is a man's game.
In a series of commercials for Kia, Brazilian model Adriana Lima seductively convinces men to watch the tournament. In one scene, we see her drive onto a football field, to the surprise of a group of hormonal teenage boys. Lima saunters onto the field with a soccer ball, and before kicking it, she purrs, "In my country, this is called futebol."
It's advertising that's an insult to female fans and players who love soccer just as much as their male counterparts. In fact, during the last World Cup, 43% of live match viewers were women.
Image Credit: AP. A woman cheers for Brazil's team during the World Cup.
But the Kia commercial, as well as other World Cup advertisements, provides a snapshot of the stereotypes we associate with Brazilian women: sexy, beautiful, accessories to the game. Adidas came under fire in the lead-up to the tournament for T-shirts deemed offensive: One said, "Lookin' to Score in Brazil" (alongside a drawing of a smiling, bikini-clad woman), while another announced, "I heart Brazil" with the shape of the heart being the shapely buttocks of a woman in skimpy underwear.
Image Credit: Adidas.
The shirts caused an uproar, and eventually they were pulled. The tropes, unfortunately, still persist, and they're erasing the country's thriving national women's soccer team.
While women's soccer was banned until 1979, the Seleção, the Brazilian national team, are currently the most successful women's team in South America. It also boasts one of the most decorated women's players in the world. She has been called "Pele in a skirt," but to her fans, she is known simply as Marta.
Image Credit: AP. Marta during a match against Chile during the International Women's Football Tournament on Dec. 22, 2013.
Marta Viera da Silva has won FIFA World Player of the Year five times, is an Olympic medalist, a UEFA Women's Champions League winner and a Golden Boot winner. But you'll never catch a glimpse of her in advertisements for the World Cup. Despite their prowess on the field, players like Marta have struggled to earn the same sort of product endorsements that their male counterparts have, having been deemed not "sexy" enough for major companies.
According to Joanna Burigo of the Guerreiras Project, which fights for gender equality in women's soccer in Brazil, the pervasive, hypersexualized image of Brazilian women only helps keep women on the sidelines.
"The objectification of female bodies in advertising builds on and underpins the idea that women exist primarily as beautiful things to be looked at, and this is further entangled, in Brazil, by the hypersexualization of these bodies," she told PolicyMic. "The biggest harm is the continuation of a culture that perceives women — and Brazilian women especially — as sheer embellishments."
It's going to take a shift from viewing women as "decorative" to being the fierce players that they are in order to give women an equal space in the sport.
"There is still a lot of resistance, in Brazil, to strong, fit, athletic and powerful female bodies that dare to want to be perceived, accepted and celebrated as equals in this male-dominated game, and sexist advertising certainly contributes to that," Burigo said.
Image Credit: AP. Players from the Criciuma women's soccer team.
As long as soccer remains "a man's game" to the public, it will mean that women's access to the sport will only continue to be restricted. Despite enjoying more support today than ever before in Brazil, the country's top women's soccer team, Santos FC, folded in 2012 in order to pay the salary of famed Brazilian player Neymar. That means that even though female soccer players might be as talented as male players, they won't enjoy the success they deserve until attitudes towards the female body change.
Brazilian athletes are struggling against assumptions about Brazilian women. In a land where football is a religion, these Brazilians are trying to worship. Celebrating women's athletic accomplishments in advertising may seem small, but it would be a big step towards shaking up the attitudes that hold women back.