10 Twitter Accounts You Should Follow to Understand What's Happening in Iraq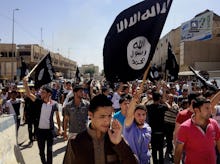 The situation in Iraq is only heating up: The United States is now sending 275 troops back to the country, as the violent insurgency of Islamic State in Iraq and Syria (ISIS) continues. The group released horrifying photos this week of a mass execution of almost 200 soldiers. 
Like many of the region's conflicts, Iraq's story can be confusing and fast-moving. Luckily, there are a couple of experts out there who can offer a window into what is going on right now. 
Here are ten Twitter accounts to follow to get an understanding of what is happening in Iraq:
RACHEL SHABI, journalist and author
Twitter: @RachShabi
For sharp and informed commentary on what's happening in Iraq, look no further than award-winning journalist and author Rachel Shabi. She's been monitoring and commenting on the situation in Iraq since before it came back on our radar.
HADEEL AL-SHALCHI, former Middle East correspondent
Twitter: @hadeelalsh
Al-Shalchi, who is now working for the International Rescue Committee, was a reporter for the Associated Press and Reuters. Her feed is the one to follow if you're looking to be up-to-date on news, particularly in the realm of human rights. 
JENAN MOUSSA, reporter for Al-Aan TV
Twitter: @jenanmoussa
If there's conflict in the Arab World, there's probably a solid chance that Moussa will be there to cover it. Moussa is currently reporting from Iraq, and her tweets offer a glimpse into what is happening on the ground. 
HAYDER AL-KHOEI, associate fellow, Chatham House
Twitter: @Hayder_alKhoei
Al-Khoei works for Chatham House, a British international affairs think tank, and he is an expert on Iraq who has been published by the Guardian and Foreign Affairs. Follow his feed to get a deeper yet accessible look at what is happening in Iraq. 
NED PARKER, Baghdad bureau chief, Reuters
Twitter: @nedmparker1
The situation in Iraq can change quickly, and if you're looking for the latest news, Parker's feed is usually the place to go. 
RUWAYDA MUSTAFAH, British-Kurdish writer and activist
Twitter: @RuwaydaMustafah
Mustafah, who is based in Erbil, Iraq, tweets insightful commentary and news about the Kurdish side of the picture. Bonus: You'll find some interesting thoughts on feminism and religion in her feed too. 
JUAN COLE, academic and expert on the Middle East 
Twitter: @jricole
If you're looking for an easy-to-understand crash course in what's happening in Iraq, Cole is the person for you to follow. His blog, Informed Comment, offers a deeper look at headline stories from the region.
DIAA HADID, AP reporter
Twitter: @diaahadid
Hadid is a reporter for AP who is currently on the ground in Iraq. Both her tweets and her Instagram feed are great resources for updates from the ground. 
AYMENN J. AL-TAMIMI, expert on militants in Syria and Iraq
Twitter: @ajaltamimi
For up-to-date information on ISIS and other militant groups in Syria and Iraq, follow Al-Tamimi. His feed, as well as his analysis, will help you understand the thinking and movement behind these groups.
ANNA DAY, Freelance journalist
Twitter: @AnnaOfArabia
Anna Day is a journalist and human rights activist who has reported from the Middle East and North Africa over the past few years. Day has also been in and out of Syria, and her reporting offers an interesting glimpse into the minds of some of the fighters involved in the situation. Check out her illuminating piece for the Daily Beast about meeting members of ISIS. 
KARL SHARRO, writer and satirist
Twitter: @KarlreMarks
No list on people to follow on the Arab world is complete without Karl Sharro, whose Twitter feed offers guaranteed current affairs-themed chuckles: