What Everyone Is Getting Wrong About Team USA's Jurgen Klinsmann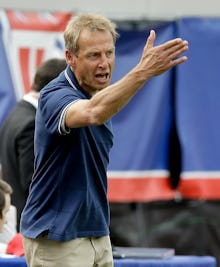 The news: If there's one thing #Amuricans hate, it's losing.
So imagine their reaction when Team USA soccer coach Jurgen Klinsmann told them to stop being ridiculous, bury their World Cup pipe dreams and snap back to reality:
"For us now, talking about winning a World Cup, it's just not realistic," he said last week. "We are getting stronger…[But] today, even before the World Cup starts, to say we should win? It's just not realistic."
Image Credit: AP
Well, damn: This may seem harsh, but it's probably true. And it's rooted in Klinsmann's plans around what golfers would call "the long game."
Basically, American men's soccer has never been great. In the wake of yet another World Cup ouster in 2010, Team USA hired the former German national team star to build a contender from the ground up and turn these perennial losers into a global superpower. Since 2011, Klinsmann has recruited heavily from around the world.
The result? A 2014 squad where seven players hail from other countries and seven are under 25 years old.
Image Credit: Alive for Football
"He's definitely building for the future," journalist Steve Han told KPCC. "One thing he's trying to do is incorporate more of an international, European-style of soccer into the current American soccer and what better way than to do that than to bring in players that have experience playing abroad."
More: Klinsmann's contract runs through the 2018 World Cup, meaning the team playing tonight is expected to be a serious contender by then. But with this process comes a tempering of expectations, and some people aren't ready for that.
Take the uproar surrounding Landon Donovan being cut from the squad last month.
Image Credit: AP
Logic dictates that if you want to win now, you don't get rid of Team USA's all-time leading scorer. But Klinsmann's "build now, win later" model had to begin somewhere, and although observers were shocked, the coach explained himself with characteristic bluntness:
"This always happens in America," he told the New York Times Magazine. "Kobe Bryant, for example — why does he get a two-year contract extension for $50 million? Because of what he is going to do in the next two years for the Lakers? Of course not…He gets it because of what he has done before. It makes no sense. Why do you pay for what has already happened?"
Point taken: There's something refreshing about this brutal honesty, but the last thing fans wanted to hear before tonight's match versus Ghana was that USA is likely a game or two away from bowing out. Unsurprisingly, Landon Donovan had something to say about this:
"This will come as a surprise to nobody, but I don't agree with Jurgen," he said on ESPN. "We believe that we will win. I think that's the way Americans think and I think that's the sentiment."
Of course, others decided to take it to Level 2 with a splash of xenophobic vitriol:
That's ESPN analyst Michael Wilbon telling Klinsmann, a long-time U.S. resident, husband to an American wife and father of two American-born children, to get the hell out of America. Really.
But: Framing Klinsmann's comments as patently "un-American" serves a dual function. First, it maintains the laughable, Disney-esque myth that Americans can do whatever they want if they simply put their minds to it. And second, it completely discredits the long-term wisdom of Klinsmann's strategy.
When 2018 comes around, Team USA may very well be the World Cup contender we so badly want to believe it is today. But reaching that point is a process, and sometimes that process needs to be conveyed bluntly and without sugar coating.
Perhaps Colbert Report character Hans Beinholtz said it best: Sometimes, in the short term, "[to] love someone is to confront them with their own worthlessness."
In other words, let Klinsmann do his thing.