Here's How the U.S. Just Scored One of the Fastest Goals in World Cup History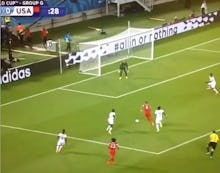 Well, that didn't take long.
Clint Dempsey scored just 29 seconds into the United States' World Cup opener against Ghana at Arena das Dunas in Natal, Brazil.
The 31-year-old captain received a beautifully threaded pass from Jermaine Jones on the edge of the box, dribbled past two defenders and slotted a left-footed shot past Ghanaian goalkeeper Adam Kwarasey into the bottom-right corner of the goal. (Predictably, the Univision call was everything you'd expect.)
Image Credit: @cjzero
Dempsey's first-minute strike was the fifth-fastest goal in World Cup history.
Only Turkey's Hakan Suker in 2002 (11 seconds), Czechoslovakia's Vaclav Masek in 1962 (16 seconds), Germany's Ernst Lehner in 1934 (25 seconds) and England's Bryan Robson in 1982 (27 seconds) have scored faster goals in World Cup matches.
No one was more excited about the quick tally than U.S. national team coach Jurgen Klinsmann.
The reaction on Twitter was immediate and resounding.
It was Dempsey's third career World Cup goal after his right-footed volley against Ghana in 2006 and memorable equalizer against England in 2010. He's now scored 38 times in 106 international appearances.
The Texas native is no stranger to quick strikes: He scored the fastest goal in the U.S. World Cup qualifying history with a 53-second goal in an 8-0 win over Barbados in 2008, later eclipsing the record with a 36-second goal in a 2-1 loss to Jamaica in 2012.