A Bold Female Singer You've Probably Never Heard of Is Taking Down Music Industry Sexism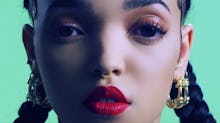 In the past week, 26-year-old British singer FKA Twigs released three incredible music videos — each more original and eye-catching than the previous. Her deceptively simple music is woven equally from electro, R&B, hip-hop and pop. At first blush, they're merely brilliant. But upon closer examination, it's clear that they're part of something much bigger. The videos are a bold revolution against one of the most insidious ideas about electronic music: A woman can't do it on her own. FKA Twigs is proving it wrong.
Electro music and hip-hop, the genres FKA Twigs generally assumes, remain two of the most sexist sectors of the music industry. Female Pressure, a database of female DJs and musicians, performed an analysis of the industry this past spring and it showed that only 9.3% of artists listed on record labels are women. In a collaboration between a man and a woman (which is usually a DJ-singer pairing), the man often receives all creative credit — even in cases when the woman pulled equal weight.
Solange Knowles and Dev Hynes are a good example. Hynes was widely celebrated for his work with Solange on her EP, True, but she got nearly no credit. Knowles lamented, "I find it very disappointing when I am presented as the 'face' of my music, or a 'vocal muse' when I write or co-write every f**king song ... Sexism in the industry ain't nothing new." Or, as fellow female musician Grimes wrote on her Tumblr, "I'm tired of men who aren't professional or even accomplished musicians continually offering to 'help me out' ... as if I did this by accident and I'm gonna flounder without them, or as if the fact that I'm a woman makes me incapable of using technology."
That's why Twigs makes herself as visibly responsible for her own work as possible. "I've always said, 'No, sorry. It's my song. I write the lyrics. I write the melodies.'" In her July profile with Dazed and Confused, she explains further her hope that people will identify her sound and recognize her as a producer who makes her own music. "It's a tough industry ... I'm finding the strength and confidence within myself ... to do what I'm doing regardless."
And that's an attribute that her more-established peers, regardless of gender, have noticed, too. King of autotune, T-Pain, tells Fader that Twigs changed his life with her boldness during their collaboration. He asked her how she could churn out so many videos (one for every song she's released) — "I'm like, 'Your label's okay with that?' And she's like, 'I don't give a fuck about that.'"
It's that attitude that got a video like "Water Me" over 2.5 million views despite its revolutionary boldness.
Fortunately, standing out is something Twigs is used to. Twigs was born with the name Tahliah Barnett in Gloucestershire to a Jamaican father and a Spanish mother, and she was always distinct. "I was never the pretty girl at school. I'm tiny and mixed race. I grew up in a white area. I was always the loner," she told Pitchfork. She picked up the moniker Twigs (because of how her bones cracked), and later added the prefix FKA ("Formerly Known As") because there was already an artist with that name. Then she started producing some of the most compelling music and visuals of anyone in the genre.
Her videos are an especially important part of her bold career because of their stunning explorations of gender roles and sexuality. The video for "Papi Pacify," for example, was extolled by Feministing as one of the best feminist music videos in 2013.
The video features the singer embraced by a man from behind, and while some of the shots are tender and loving, many of them show Twigs in a submissive sexual position, with the man playing the sexual aggressor, sticking his fingers into her mouth and grappling at her throat. The power of the film, though, is that this isn't seen as exploitative — it's depicted as consensual and exploratory. She explored similar issues in the powerful and haunting "Hide" — every video broadens the viewer's conception of what it means to be a woman.
For a while, FKA Twigs was one of the industry's best-kept secrets, but no longer. With her debut LP approaching on August 12th, her presence is only growing stronger. As far as all female artists are concerned, that's only a good thing.