Angelina Jolie Just Gave Us Another Reason to Love Her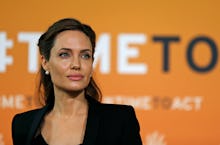 "It is a myth that rape is an inevitable part of conflict. There is nothing inevitable about it. It is a weapon of war aimed at civilians. It has nothing to do with sex, everything to do with power."
So begins actress and UN Special Envoy Angelina Jolie's searing opening speech at the world's first Global Summit to End Sexual Violence in Conflict.
Twelve hundred people from 100 countries attended the four-day summit, which was held in London from June 10 to June 13. The largest event of its kind, the summit aimed to "shatter the culture of impunity for sexual violence in conflict." Jolie's speech, delivered just days after blatant rape apologism once again made headlines in the U.S., is at once a powerful condemnation of victim-blaming and a message of support to survivors.
"War zone rape is a crime that thrives on silence and denial," Jolie said. "The stigma harms survivors, and it causes feelings of shame and worthlessness. It feeds ignorance such as the notion that rape has anything to do with normal sexual impulses. But most of all, it allows the rapist to get away with it. They feel above the law, because the law rarely touches them and society tolerates them."
Jolie is known for her humanitarian work abroad, and has long fought for survivors of sexual violence. In 2011, she made her directorial debut with In the Land of Blood and Honey, a film set during the Bosnian War of the 1990s. Estimates of the number of victims of sexual violence during that war range from 20,000 to more than 50,000. The actual figure remains elusive, as many victims fear facing social repercussions after speaking out.
Jolie's experience meeting survivors in the country, including one woman who was too ashamed to tell her son she'd been raped, reportedly moved the actress (incidentally, now an honorary dame) to take two years to organize the summit, alongside British foreign secretary William Hague.
Some of the summit's practical goals included calling for soldiers and peacekeepers to be thoroughly trained in sexual violence prevention, as well as increased support for survivors and activists and "a seismic shift in attitudes" surrounding wartime rape, "to demonstrate the scale of this problem and its impact on every continent, and on men and boys as well as women and girls."
Jolie said she hopes that the summit will be a "turning point" that spurs more countries to take meaningful action.
"We can send a message across the world that there is no disgrace in being a survivor of sexual violence," Jolie said, "that the shame is on the aggressor."