5 Questions From the Spurs' Lopsided Win Over the Heat in the NBA Finals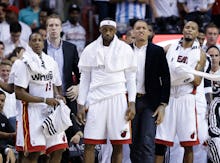 As the dust settles on the San Antonio Spurs' one-sided beating of the Miami Heat in the NBA Finals, much attention will be paid — and rightfully so — to how "team" basketball and the beauty that is a complete roster overcame a top-heavy trio of elite players.
Yes, San Antonio had the better team, and from a pure basketball perspective, the four-games-to-one series win should not surprise anyone. However, there's more than the victory for "team" basketball to discuss as a result of the series.
1. Does this loss by the Heat signal the end of the "Big Three" model?
It may not signal the end so much as it cements that there are two models that have historically worked better. There is the balanced-team approach, seen recently by the San Antonio Spurs and the Detroit Pistons of the early 2000s. Then there is the Michael Jordan-Scottie Pippen approach made famous by the Chicago Bulls of the '90s and replicated by the Shaquille O'Neal-Kobe Bryant Lakers and even the Tim Duncan-David Robinson Spurs.
Only the 2008 Boston Celtics were able to win a title with a "Big Three" approach led by Kevin Garnett, Ray Allen and Paul Pierce. We may not see the end of the "Big Three," but that will only be if the Heat's trio sticks together for another title run.
2. Does Duncan's fifth title cement him as the best power forward of all time?
If you weren't already convinced, Duncan's fifth title in 15 years should have done it. For a player that who 24th all time in points, 12th in rebounds and eighth in blocks, Duncan should finish his career as the best power forward in the game.
Owner of two MVP trophies and career averages of almost 20 points and 11 rebounds, Duncan also surpassed Kareem Abdul-Jabbar as the all-time postseason leader in minutes played — a testament to his otherworldly longevity.
But beyond his personal success, the fact that over 15 seasons Duncan has won five titles with a largely rotating cast of supporting characters cements his status as a truly great team player as well.
3. Is this the end for Dwyane Wade?
It's not the end, but the end is near. At age 32 with 871 games under his belt (including the postseason), Wade is no longer an elite player. Wade may not even be a top 50 player in the NBA. His disappearance in the playoffs magnifies his drop in production over the last few years.
Wade's scoring and Player Efficiency Rating are both trending downward in each of the last five seasons. Compounding matters is his injury history, a laundry list of ailments that's kept him from playing a full 82-game season. Yes, Wade will go down as an all-time great, but he's simply a very good, not great, player now.
4. Does Gregg Popovich earn a place with Red Auerbach and Phil Jackson?
Coach "Pop" has five NBA titles and three Coach of the Year Awards in 18 seasons as the Spurs' head coach, which makes him the longest tenured coach in the major North American sports. Sporting a career record of 967-443, Popovich's prolonged success and five titles earn him a place in the conversation.
For comparison's sake, Popovich has more wins than Auerbach''s 938, but not as many titles as Auerbach's nine or Jackson's 11. Popovich can coach in San Antonio until he's ready to retire, but he has a ways to go to catch Jackson's win total of 1,155.
5. Does this loss, not the money, break up the Heat's Big Three?
If anything breaks up the LeBron James-Wade-Chris Bosh trio, it's going to be money. Wade's age and decline make it foolish for him to opt out of his $20 million deal. James only has one other option: return to Cleveland, which seems as likely as the Cuyahoga catching on fire (again).
Only Bosh has a real shot at leaving Miami. His time in Toronto proved that he can be the leading man for a playoff team, and the experience he gained in Miami can help him bring a more polished and veteran presence to just about any other franchise. As the only Miami star not making more money off the court, Bosh is the only one with a real incentive to leave.
Complicating matters is the rumors that Heat president Pat Riley has designs on bringing Carmelo Anthony to South Beach. The NBA fan base may simultaneously go crazy, but the economics just don't work, not to mention that a "Big Four" of James-Wade-Bosh-Anthony would struggle from a basketball perspective for a variety of reasons. With only one ball to share, it's unlikely Melo joins the Heat without substantial pay cuts from the current Miami stars.