Mt. Holyoke's President Announced a Huge Change for LGBT Students With an Emotional Speech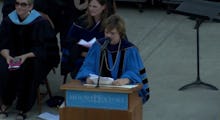 For several years, America's most prestigious women's colleges have opened their hallowed halls to scores of eager incoming freshmen — that is, unless you're transgender.
This week, Massachusetts school Mount Holyoke became the second women's college (after Mills College in California) to announce it will be accepting applications from female transgender students. Mount Holyoke president Lynn Pasquerella made the decision public during an emotional speech as part of the college's convocation.
"We recognize that what it means to be a woman is not static ... We acknowledge that gender identity is not reducible to the body," Pasquerella said in the speech, appearing to wipe away tears. "Our new policy formally welcomes applications from ... anyone who is female or who identifies as a woman."
Pasquerella clarified that Mount Holyoke needed a "formal policy" that would "articulate our commitment to core values of individual freedom, social justice and diversity and inclusion." The college, she said, "has welcomed trans students in the past and for several years ha[s] been in conversation with campus constituencies about how best to foster a respectful environment for all students." But it was still important for university administrators to send a clear, welcoming message to the trans community.
The change in policy comes amidst a tense debate within feminism about transgender inclusion. In her speech, Pasquerella referenced the thinking of mainstream feminists, who decades ago argued against biological determinism in order to gain societal advancement. This logic, she observed, can be similarly applied to the decision to accept applications from all students.
So far, the new policy has received unanimous support from the LGBT community, which has called for women's colleges to open its doors to trans students in recent years. While they have generally been considered bastions of the liberal arts, women's colleges have stayed surprisingly conservative in their understanding of gender when it comes to their admissions policies. Some cite the red herring of Title IX which, up until this summer, provided a loophole to women's colleges regarding their single sex status. The Department of Education has since extended protections to trans students.
The issue attracted national attention last year, after Calliope Wong was denied admission into Smith College due to a so-called "gender inconsistency" in her application. The Federal Application for Student Aid (FAFSA) identified her as male, and this inconsistency effectively nullified her candidacy. "Your FAFSA," read Wong's rejection letter, "indicates your gender as male. Therefore, Smith cannot process your application."
This is problematic reasoning because there is no federal legislation creating universal guidelines for gender markers. Meanwhile, the process to change one's legal gender identification can only be made through an expensive and time consuming process requiring approval from medical and psychiatric health care providers. If the applicant is under 18, the process is even more difficult, if not impossible. As Avi Cummings and Dean Spade explained in Time, "the rules that govern changing gender markers on identity documents in the U.S. are inconsistent and arbitrary, and there is no such thing as a 'legal gender.'"
That Smith and other women's colleges have taken this position can be understood as nothing short of a form of biological determinism, couched in an antiquated understanding of gender that, ironically, the feminists at these colleges historically worked to counteract. It's as if no one remembers the most famous quote from Simone de Beauvoir's The Second Sex: "one is not born a woman, but rather becomes, a woman." Smith's revised policy on transgender students remains uncomfortable in its ambiguity, relying "on a case-by-case basis" in determining whether an application reflects a candidate's "status as a woman."
It's important to note that women's colleges are far more likely to accommodate transgender men, despite the fact that these students may not identify as women. Smith's policy, as well as the trans women-exclusionary policy of the controversial Michigan's Womyn's Music Festival, is predicated on a faulty rationale. Again, the point of contention is in who gets to determine gender: In 2014 we have fully realized that gender is self-determined, yet at MichFest, as at these colleges, officially the opposite holds true. 
The hypocrisy of this reasoning turns frustrating upon the realization that the trans women community arguably faces the most discrimination of any comparable community in modern society. According to Cummings and Spade, "a survey found that 78% of transgender people have been harassed in grades K-12. Thirty-five percent of survey participants had been physically assaulted in education settings, and 15% had dropped out of school because of their gender. Educational discrimination leads to disproportionate discrimination in employment, poverty and homelessness."
Meanwhile, hate crimes against trans women of color have increased over the years, with one 2012 statistic noting that 53% of all anti-LGBT homicides were trans women of color. Trans women, more than any other community, are in need of safe spaces, especially when it comes to education.
It remains largely unclear what women's colleges, other than Mills and Mt. Holyoke, are attempting to preserve in their reluctance to accept trans women. But continual pressure by LGBT activists and their allies may just be the dose of strong medicine they so desperately need for their survival. And, in a very hopeful sign, Mt. Holyoke's students and alumni seem to unanimously approve of the change. "There is so much to learn from one another and the experiences we bring to the table," Linley Beckbridge, who graduated from Mount Holyoke in 2011, told BuzzFeed. "I believe this policy is Mount Holyoke's way of opening its arms to all women, which demonstrates the college's commitment to diversity and inclusion and puts us on the right side of history sooner rather than later."