Obama Is About to Do Something No President Has Done in Over 30 Years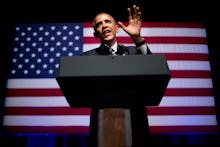 Obama is about to build an alliance with Iran: As they say, the enemy of my enemy is my friend. While U.S.-Iran relations may still be far from friendly, the nations could soon work together to address a common threat: the Islamic State of Iraq and the Levant (ISIL).
The radical Sunni insurgency — now the richest terrorist group in the world — has been making disturbing progress in taking over Iraq. And on Monday, Secretary of State John Kerry sat down with Yahoo News' Katie Couric and indicated that the U.S. government would be willing to work together with Iran if they can stop ISIL, which he described as "an existential challenge to Iraq itself." 
"We're open to discussions if there is something constructive that can be contributed by Iran, if Iran is prepared to do something that is going to respect the integrity and sovereignty of Iraq and ability of the government to reform," Kerry told Couric.
What options are available? Iranian President Hassan Rouhani has indicated the same, implying that Iran is willing to overlook its spotty history with the U.S. if it receives help to fight "terrorist groups in Iraq and elsewhere." But so far, both sides have ruled out a joint military operation and have insisted that they are looking at a united political front against ISIL.
Should a partnership with Iran fall through, the U.S. has other options. The American government has already sent an aircraft carrier and three other Navy ships to the Persian Gulf to protect American lives in the area. President Barack Obama announced that he has deployed up to 275 military personnel to Iraq and the administration has floated the idea of unilateral air strikes and drone action.
"I think we are open to any constructive process here that could minimize the violence, hold Iraq together — the integrity of the country — and eliminate the presence of outside terrorist forces that are ripping it apart," Kerry said during the interview.
How bad is the situation? After quickly gaining ground last week in a series of lightning attacks, ISIL launched an attack on Tuesday in Baqouba, a strategic site within striking distance of Baghdad. With its new influx of cash, the group has reportedly massacred hundreds, if not thousands, and has triggered the flight of an estimated 500,000 people from Iraq. They've captured sophisticated military equipment given to Iraq by the U.S., and are in control of critical oil infrastructure in the country.
So far, Kurdish fighters have been trying to keep ISIL out of their region, but Iraq's army has not been able to repel the insurgents' onslaught. There's no telling which city might fall next or how far ISIL is willing to push, which means the U.S. and Iran might need to become unlikely allies to avoid the worst-case scenario.