OK Go's New Music Video Is the Most Brilliant Thing You'll Watch Today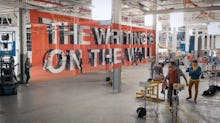 In 2006, OK Go was a small indie band with a pop-rock sound and not much success to speak of. That's when they got together with lead singer Damian Kulash's sister to make a music video. That video involved treadmills and 17 takes. Later, it also involved a Grammy, 20 million views and the group's first-ever chart success. Eight years on, they've done it again.
The music video for the group's new single "The Writing's on the Wall" is brilliant. Its trompe l'oeils and single-shot execution are flawless, but it's more than perfect Internet fodder. The band has managed to tie an extremely catchy New Wave single to a thematically fitting, visually stunning video. It's a song about a failing relationship. It's fitting, then, that in OK Go's Brooklyn soundstage, everything looks different depending on your perspective.
OK Go's career often looks like the work of director Michael Bay. Like the unending series of Transformers films, OK Go has unflinchingly upped the ante on each subsequent music video since their first great success. They're career goofballs. Observe:
2010's "This Too Shall Pass" saw them constructing an elaborate Rube Goldberg machine culminating in paint cannons:
"White Knuckles" combined the Internet's two favorite things — OK Go and canine actors:
And 2012's "Needing/Getting," their previously unchallenged masterpiece, literalized the track as a racetrack that the band played with a tricked-out Chevy:
For the past eight years, OK Go has been going viral with some of the most clever music videos on the Web. But they've done it behind powerful music. You watch the video once for the gimmick; you replay it for the song.
It's a well-timed release for the video, too. YouTube has recently announced that any independent labels refusing to sign up for its new streaming service will have their content stripped from the site within days. OK Go owns their own label, and they may well be one of the small companies unwilling to agree to YouTube's terms. But this music and these videos are a testament to the power of and the need for the open Internet, to show what we all gain from one small group with a song, some used treadmills and the web before them.