Leonardo DiCaprio Just Gave Us the Best Reason to Love Him Yet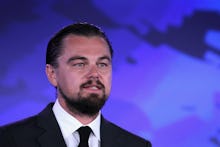 We may know him as the Wolf of Wall Street, Jay Gatsby, Romeo or Jack Dawson, but take a peek at Leonardo DiCaprio's Twitter profile and you'll see there the two roles he really wants to define him: actor and environmentalist.
Taking his environmentalist side very seriously, DiCaprio pledged $7 million on Tuesday to ocean conservation projects, and his speech would make any nature-lover proud. As if we needed another reason to love him.
His contribution is large, even by celebrity donation standards, and comes on the heels of President Obama's announcement to protect marine areas, particularly in the Pacific Ocean. 
DiCaprio told the crowd at the Our Ocean Conference, which was organized by the Department of State, "I'm standing here today as a concerned citizen of this planet who believes that this is the most important issue of our time." 
"We're plundering the ocean and its vital resources, and just because we can't see the devastation from dry land doesn't mean it's any less dangerous," he said. "It needs to stop."
This is not the first time DiCaprio, an avid diver, has used his Hollywood clout to support sea life. Earlier this year, he gave a $3 million grant to the international ocean conservation organization Oceana through his eponymous foundation, which is dedicated to protecting the environment. His organization has also donated $1 million to an elephant crisis fund and $3 million to the World Wildlife Fund to help protect tigers. 
Dicaprio has called his devotion to wildlife a "parallel passion" to acting, and has used every spotlight he has to bring light to the issues he cares about most. His Twitter feed, for example, is almost exclusively about environmental issues. 
And he is not alone in his efforts. Many celebrities have supported charities, and such efforts have consistently shown tremendous benefits. A recent study by Erica Harris and Julie Ruth of Rutgers Business School showed that charities with celebrity endorsements are likely to receive more support from the public as well. 
Hopefully DiCaprio's work with Oceans 5, Pristine Seas and Oceana will garner wider support from the public.
As DiCaprio said Tuesday, "Oceans are the source of most of our oxygen and life-giving nutrients on this planet. They dictate our climate, our weather patterns and ultimately our own survival." Devotion to their health is integral to ours.