There's a Radical Way the U.S. Can Create 10 Million Jobs — But Congress Won't Do It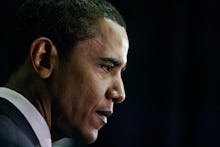 Can you believe there's an economic fix Democrats and Republicans agree on? The much more believable part: It's not getting done anytime soon.
A new study from S&P Capital IQ found that lowering the corporate tax rate by 10 percentage points would create 10 million jobs — enough to offset the loss in tax revenue that would result.
The reasoning: When a U.S. company moves overseas, or merges with an overseas company, it doesn't have to pay our relatively high 35% tax rate. (The "effective tax rate," calculated by S&P, is actually fairly moderate. There are still plenty of other countries companies would rather be taxed by, though.)
Image Credit: Yahoo! Finance
When a company moves, it hits the country on two sides: That tax revenue ends up going somewhere else, and jobs often disappear. U.S. companies in the S&P 500 index now make 48% of their revenues overseas.
Agree to disagree: While economists haven't exactly settled on a perfect corporate tax rate — the S&P study recommends dropping it to Switzerland's low, low level — politicians on both sides of the aisle seem to want to see it drop.
President Barack Obama has proposed lowering the rate to 28%, with a 25% rate for manufacturing companies. Republicans in Congress have proposed dropping it to 25% across the board. Seems like they could find a compromise, right?
Nope! Obama's proposal closes tax loopholes and raises taxes on the rich to lower the budget deficit. Republicans' proposal lowers taxes for the rich. Therein lies the rub.
While companies continue to leave the country, it's certainly not a crisis on the level of, say, the VA scandal — Congress' last big bipartisan call to arms. In one of the most unproductive legislative eras in American history, it's going to take more than a little agreement to get some new policies passed.