Why We Changed Our Name to Mic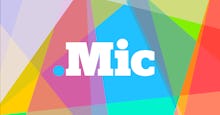 We're thrilled to announce that PolicyMic has officially relaunched as Mic!
Three years ago, we set out to build a new kind of media company, one that appeals to young people with engaging coverage of important topics. Our generation is hungry for news that helps us stay informed about what's happening and why it matters.
We've spent the past several years growing a rockstar team of editors, writers, and engineers. And we've also expanded our coverage into new areas – World, Identities, Music, and Sports – to complement our Policy, Arts, and Live News teams.
Our new name reflects our expanded focus and bold vision for Mic. Our generation will define the future, and we believe in the power of stories to bring people together and make the world a better place. Too many news outlets assume young people only want to read fluff and shape their coverage to appeal to older readers.
In the coming weeks, we'll be debuting a data visualization department to tell original stories and contextualize the news through beautifully-designed multimedia. By the end of the year, we'll be launching new sections focused on science, health, technology, and more. And we recently re-introduced Mic Check, our daily newsletter, to give readers a summary of the most important stories of the day (sign up here).
Amidst all these exciting changes, Mic's editorial sensibility will remain exactly the same. We will continue to publish stories that are substantial, inquisitive, and fun to read. We will continue to challenge traditional narratives. We will continue to offer compelling perspectives that drive conversations about real issues.
Today, you probably noticed that we have a new URL (Mic.com) and some new design elements, including a reimagined logo, updated site design, and new article typefaces. Our design team improved the navigation bar by stripping down unnecessary elements, and building a space which allows each section to stand out. When reading a story, the corresponding section name (PolicyMic, ArtsMic, WorldMic, etc.) will be featured as a header at the top of the page. As you scroll through an article, the navigation bar compresses to make reading a more pleasant visual experience. It allows readers to see the title of the current article and share or tweet the article directly.
We hope you'll tell your friends about what we're doing and join us on Facebook and Twitter. Our generation is 80 million strong, and together we can have a real impact.
Thanks for being part of the Mic community!
Chris, Jake, and the Mic team