A Tiny Pacific Nation Has an Alarming Message for the Rest of the World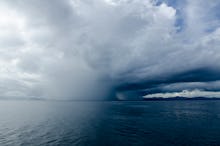 "History will judge you harshly if you abandon us to our apparent fate of sinking below the waves because you don't want to make the necessary adjustment to your domestic policies."
Frank Bainimarama, Fiji's interim prime minister, addressed the global community with those words at the Pacific Islands Development Forum, where he chastised other countries for abandoning his and other Pacific islands by not taking enough steps to combat climate change.
"The rising sea levels caused by global warming threaten the very existence of some of our neighbors — Kiribati, Tuvalu and the Marshall Islands," Bainimarama said. "[They] are already swamping the coastal areas of many Pacific nations, including Fiji. ... Yet if anything, the collective will of the global community to adequately address this crisis is receding."
Image Credit: American Meteorological Society via PIRCA
Good neighbors, bad neighbors: Bainimarama specifically called out Australia, where Prime Minister Tony Abbott said recently said he would not stand for climate change policies that "clobber the economy." The Fiji leader responded in his speech, saying, "I appeal to Australia and other countries not to behave selfishly over the catastrophic prospect facing small island developing states."
Indonesia, meanwhile, garnered praise for pledging $20 million to help Pacific island countries adapt to climate change. Indonesian President Susilo Bambang Yudhoyono is trying to cut his country's emissions by 26% by 2020 — or 41% with international help.
The effects: The 2012 Pacific Islands Regional Climate Assessment presents a frightening future for nations like Fiji, Tuvalu and the Marshall Islands. As sea levels rise (and they're rising faster in the Western Pacific than anywhere else), freshwater supplies will decrease, coastal flooding will grow more destructive, fisheries will decline and entire ecosystems will be harmed.
Image Credit: PIRCA
These challenges and more will bring about migration — generally from low, more imperiled islands to higher ones — that can strain government resources and create further social problems.
That's not just a vague future threat, either. The Marshall Islands declared a state of emergency in 2008 after flooding displaced hundreds, and the U.S. provided disaster relief after further flooding in 2013.   
It's one more reminder of the human costs of climate change — costs that are coming sooner rather than later for some parts of the world.