A Texas County Accidentally Endorsed Reparations for Black Americans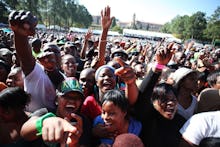 Hallelujah: The Dallas County Commissioners Court has officially endorsed reparations for slavery.
Too bad they did it by accident. The court unanimously passed Tuesday what they thought was a "routine proclamation" commemorating Juneteenth — the day black slaves were freed in Texas in 1865.
Little did they know, the resolution also featured a list of historical injustices committed against slave descendants. It ended by declaring that black Americans should be "satisfied with monetary and substantial reparations" for their suffering. 
Really.
How did they miss that? Put simply, they didn't read.
The Dallas Morning News reports the commissioners voted without actually looking at the resolution. Shortly after it passed, they complained about not having received copies beforehand.
County Judge Clay Jenkins confirmed this, saying he wants "to encourage staff to make sure all of the commissioners have the opportunity to actually read what they are voting on before that vote in the future."
Interestingly, however, only one changed his vote after this realization: Mike Cantrell, "the court's lone Republican."
Who wrote the resolution? The man behind this slick move was John Wiley Price, the only black commissioner on the court.
John Wiley Price. Image Credit: Dallas Morning News
Price says he authored the document after "reading an article making the case for reparations," according to the Associated Press. Said article was presumably Ta-Nehisi Coates' "Case for Reparations," which was published in the Atlantic last month and has since prompted a national dialogue on the subject.
The commissioner notes that the U.S. government has compensated numerous other groups for its racist and unjust policies, including American Indians and Japanese Americans.
"We're the only people who haven't been compensated," Price said.
What are reparations? In their most literal iteration, they are financial compensation for past injustices.
Coates argues that black Americans should be repaid not just for slavery, but the Jim Crow laws and routine housing discrimination they faced in its aftermath. He traces this history of state violence over 100 years before linking it to current inequities, concluding that the reparations conversation, at the very least, would represent an important "moral reckoning" for America.
But: Resistance has always been firm.
Rep. John Conyers (D-Mich.) introduced HR 40 — the Commission to Study Reparation Proposals for African Americans Act — before the House in 1989 and has reintroduced it every year since. That it's been struck down each time highlights Congress' dedicated resistance to discussing the topic.
John Conyers. Image Credit: AP
Reparations were most recently disputed by Atlantic columnist David Frum. His argument is based on their alleged impracticality, but Coates' article suggests another way of looking at it: Few people are disputing that blacks actually deserve reparations. If "how" is the only issue, what harm could an official inquiry do?
So what's next for Dallas County? Don't break out the champagne yet: The resolution is non-binding, meaning no one will actually be getting reparations.
But the fact that almost nobody changed their vote suggests the court's overall sentiment is favorable:
"I am leaving my vote the way it is," Jenkins said. "This is the body's expression of support for unity towards people, a recognition of Juneteenth."
Could an actual engagement be possible after all?