36 Iconic Images That Capture This Year's Bonnaroo in All Its Glory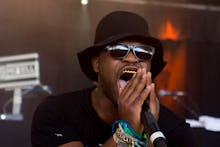 A week after the greatest festival of the year, the Bonnaroo farm is back the way it was before Sam McAllister sold it to the festival in 2007. Its 530 acres unfold through big, trampled fields, dotted with the occasional mushroom fountain, loading dock and gigantic Kanye West stage-rig. You'd barely know a festival happened there.
With a full year until the next 'Roo and no line-up for the foreseeable future, it isn't worth looking ahead just yet. But to tide you over, we've gathered the 36 definitive photos and GIFs of Bonnaroo 2014.
All photos by Liran Okanon.
The tent names continued to make no sense.
But they were always packed.
Sam Hunt put on an amazing acoustic performance.
Washed Out was surprisingly energetic.
James Blake put on a powerfully emotional, mostly silhouetted set on the third night.
The Drive-By Truckers' Mike Cooley brought some old school songwriting credibility to the festival.
Jake Bugg's unexpected Neil Young cover was a powerful finish to his set.
Danny Brown gave one of the most animated performances of Bonnaroo.
Derek Trucks proved that he is the greatest guitarist of our generation.
The Arctic Monkeys brought some much needed swagger to a hot closing day.
Zedd was mind-blowing:
Grouplove put on the most joyous set of the fest.
A$AP Ferg gave arguably the most passionate set at the fest.
There was much celebration.
And there will be again, next year.