The One Player Most Likely to Dominate the World Cup Is Off to a Brilliant Start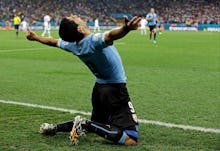 There's a history of players who single-handedly took over the World Cup, shouldered their teams to dizzying heights and came to eclipse the event itself: Pelé in 1970, Rossi in '82, Maradona in '86, Ronaldo in '02.
The talent most likely to make this year's World Cup his own, contrary to popular sentiment, is not Argentina's Lionel Messi or Brazil's Neymar or Portugal's Cristiano Ronaldo.
It's Uruguay's Luis Suárez.
Suárez, making his tournament debut Thursday against England, scored two goals on two shots to spirit Uruguay to a 2-1 win at the Arena Corinthians in São Paulo.
The mercurial striker — remarkably just 29 days removed from knee surgery — delivered the first right before halftime, evading his marker to head the ball past England goalkeeper Joe Hart.
The English managed to equalize when Wayne Rooney tapped home a pass from Glen Johnson in the 75th minute, but relief was only temporary. An attempted clearance from England midfielder Steven Gerrard shortly after was deflected backward toward Suárez, who turned and took a single touch before punching it past Hart.
Both England and Uruguay had lost their opening matches — to Italy and Costa Rica, respectively — informing Thursday's meeting with an air of desperation. The result leaves England perilously close to not advancing out of the group stage for the first time since 1958.
And Uruguay, well ... who knows? A win over Italy on Tuesday all but ensures passage to the knockout stage. If Suárez is even close to the 100% he claims, there's no one — not Messi, not Neymar, not Ronaldo — more capable of banging out a half-dozen goals and carrying his team to the final. 
The 27-year-old was at the absolute zenith of his abilities for Liverpool this past year, putting together one of the most prolific seasons in English Premier League history. He pounded in 31 goals — becoming just the seventh player to score 30 times in a season — and was the first non-European to win the prestigious PFA Players' Player of the Year trophy. This despite missing the first five games, basically an eighth of the season, due to a suspension.
Said punishment, of course, hints at the dark side of Suárez's genius — specifically the 2013 incident where he bit Chelsea's Branislav Ivanovic that prompted it. And there was also the racial abuse of Manchester United's Patrice Evra in 2011. And there was that other biting incident in Holland the year before that.
And who could forget Suárez's intentional handball against Ghana in the quarterfinals of the last World Cup to prevent a winning goal in the 120th minute, which earned him a red card and worldwide scorn — but ensured Uruguay's passage to the semifinals? It was Suárez embodied: an act of such cutthroat guile and competitive instinct it seemed to exist not above morality but outside it altogether.
What it all means is Suárez is more like Maradona — the archetypal combustible South American poacher — than Messi himself, who is well-behaved and obedient, the cowboy in the white hat. Suárez by contrast is the antihero, ruthless and unapologetic, an enemy of the establishment or human decency (depending on who you ask). There's a danger to being perhaps the most competitive person in sports, to playing harder than anyone: He is a Maserati going 160 m.p.h. on a rainy night with the lights off, equally capable of spine-tingling ecstasies and nightmarish denouements.
"I dreamt this," he said Thursday in Spanish during a teary post-match interview. "I'm enjoying this moment, because of all I suffered, the criticism I received. So, there you go."
Whether or not you admire Suárez's talent enough to look past his foibles, no one will be able to look away Tuesday when he takes the field against Italy with a place in the knockout stage at stake.
There's a good chance Suárez will take the tournament on his back — or wreck the car trying.
Image Credit: AP