Two of the Most Unlikely Politicians Just Joined Forces in Favor of Medical Marijuana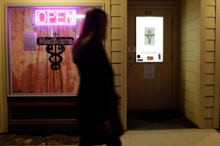 The news: It's not everyday that senators Rand Paul (R-Ky.) and Cory Booker (D-N.J.) see eye to eye, but even they can agree on the need for marijuana legal reform — and social media may have helped bring them together.
On Thursday, the lawmakers announced an amendment to the Senate spending bill that would ban the Justice Department from cracking down on people who use medical marijuana in states where it is legal under local law. The House already passed its own version of the amendment last month, and Paul and Booker have teamed up to help pass it in their own chamber.
"Even among conservatives, most oppose enforcement of federal marijuana laws in states where marijuana is legal for some purpose," wrote the Drug Policy Alliance, which announced the Senate amendment. "Having two rising stars like Rand Paul and Cory Booker team up to introduce this amendment just shows how popular the issue has become, and that our outdated federal marijuana laws are inevitably going to change."
How did this come about? Both Paul and Booker have been outspoken about the need to reform marijuana legislation: Paul has previously argued that nonviolent, marijuana-related crimes should not be punished with lengthy incarcerations, while Booker made ending the War on Drugs a cornerstone of his Senate campaign last year. But oddly enough, it may have been a Twitter interaction — and that they used a public platform to vow to work together — that may have pushed them into an alliance on the topic.
Last December, Paul reached out to the newbie senator on Twitter in the spirit of Festivus:
Then the conversation quickly turned to marijuana reform:
While there's no doubt that this wasn't the first discussion that the senators had on the topic, the Twitter exchange garnered a lot of attention and eventual disappointment when nothing definitive materialized afterwards. Now that they have become the bipartisan faces of the movement in the Senate to enact marijuana reform, there may be similar proposals coming down the pipeline in the near future.
State vs. federal laws: Paul and Booker's amendment addresses a crucial problem in current marijuana legislation: the conflict between federal and state law. It might seem nonsensical to use federal money to penalize marijuana users who abide by their own state laws, but according to the federal government, marijuana remains a Schedule I substance, which means that it has no medical value and is more dangerous than meth or cocaine.
Though nearly half of all U.S. states have made allowances for medical marijuana use, the Justice Department has continued to used the Drug Enforcement Agency (DEA) to raid and prosecute legal marijuana dispensaries.
Attorney General Eric Holder issued guidelines to the Justice Department last year to discourage busting medical marijuana patients and issuing charges that carry mandatory minimum sentences for non-violent crimes. But many of his prosecutors have not complied. In the meantime, legislators are making some headway: Both the House and the Senate have passed amendments that prohibit the DEA from interfering with state hemp production for research purposes, and now there is Paul and Booker's amendment to consider.