The Story Behind Why This Prisoner's Mugshot Went Viral on Facebook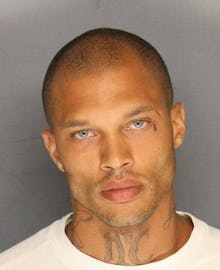 Facebook commenters say he belongs in an Abercrombie & Fitch ad. Or the pages of a romance novel. Or their bedrooms.
Police say he belongs in prison.
The Stockton Police Department in California posted the mugshot of Jeremy Meeks on its Facebook page Wednesday night. By Friday morning, it had gained more than 50,000 likes and 15,000 comments (and counting). Because — well just look at him.
Those eyes! Those lips! He's got bad boy appeal (he was arrested on five felony weapons charges and one gang charge) and a sensitive side (that's what the teardrop tattoo means, right?). Some of the comment section highlights:
"You can put me in a cell with him any day oh mammy criminal or not he is the hottest male specimen I have ever seen""But it's just gun charges! I can live with that! Loll yo he's super fine like incredibly sexy""Say what you want about him being a felon - he should have been a model. Holy!"
Image credit: Stockton Police Department/Reddit via Uproxx
Smoking gun: Stockton Police have been posting mugshots of arrestees on its Facebook page since 2012, though one officer told the AP the department has never seen one get this much attention.
Meeks was picked up along with three others in a joint operation with other police departments, SWAT teams and U.S. Marshals as part of "Operation Ceasefire," a form of addressing gun violence that began in Boston in the '90s. The idea is to use task forces of law enforcement and researchers to address the roots of homicide and get weapons and the most frequent offenders off the streets.
Stockton police wrote on Facebook that the arrests came after an "increase of shootings and robberies in the Weston Ranch area." (Weston Ranch is a neighborhood of Stockton, about 80 miles east of San Francisco.)
Smooth criminal: Feeling surprisingly sympathetic toward Meeks can be an example of the "halo effect," which has nothing to do with Beyoncé or video game space marines. It's the idea a person's physical attractiveness leads us to think they have an attractive personality too. Someone with an ugly mugshot is just some criminal; someone with a handsome mugshot could totally turn his life around.
The halo effect's impact on criminal justice is a lot greater than which felons get Facebook likes. A 1974 study found that jurors are more likely to give lenient sentences to attractive people than less attractive people, even for the same crime.
It's not just a judicial issue either. Assuming beautiful people are beautiful on the inside too has an impact on business, politics and our general social lives — ever had a friend who couldn't seem to accept that their smoking hot significant other was actually a jerk?
That doesn't mean we should be worried about a hot and bothered Facebooker posting Meeks' $900,000 bail. One user sums it up nicely in a response to anyone shaming others for finding him attractive: