One Look at the Stock Market Reveals Just How Popular Marijuana Legalization Really Is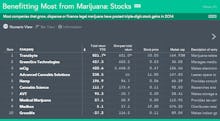 The news: Wall Street investors are getting into marijuana-related stocks in a big way. Bloomberg News reports that most publicly traded companies that grow, distribute or finance legal marijuana experienced triple-digit stock gains in 2014.
Companies involved in marijuana have seen a robust year after the passage of two measures regulating the growth and sale of recreational marijuana in Colorado and Washington. Their meteoric rise fueled a minor penny stock boom across the year, and many expect the sector to keep growing. High Times magazine is even looking to start a high-profile investment fund.
Is it all good news for marijuana investors? Well, yes and no. Marijuana is sure to be a growth industry in the coming years, especially if and when other states (and, perhaps, the federal government) move to regulate marijuana like alcohol or other legal drugs. Some investors are bound to make a very, very large sum of cash in the long run.
But the stocks booming today aren't necessarily good bets in the long run. For one, none of these companies sell recreational marijuana — they own either medical dispensaries or sell products related to cannabis like growing supplies, hydroponics, vending machines, THC-free cannabidiol, hemp, or tangential things like bongs and vaporizers. While these businesses may have a future, the regulatory environment is still very unclear and legalization comes with all kinds of issues regarding ancillary industries. (If they're very unlucky, Big Tobacco could move in once the risk clears.)
And there are other potential setbacks due to the newness of the industry. The SEC recently moved to temporarily halt eight different marijuana-related stocks for issues ranging from "manipulative transactions" to "unlawful distribution of securities." In mid-May, the SEC went so far as to warn investors away from marijuana penny stocks, issuing a "warning about possible scams involving marijuana-related investment" and telling them that "fraudsters often exploit the latest growth industry to lure investors with the promise of high returns." While the market is still considerably more healthy than it was in 2013, the pot bubble has seriously shrunk since its peak in Jan.-March 2014. Investors are now a little spooked that if they're not scammed by unsavory companies, the SEC's vigorous regulatory push will make weed a bad investment.
The future: The fledgling marijuana sector isn't going away. Bloomberg News notes that penny pot stocks have gone from $500,000 in late 2012 to over $7 billion today. It's hard to imagine the sector itself won't survive, even if many individual companies involved end up failing.
Marijuana might end up being one of the biggest start-up sectors in coming years. While booming investment is a good thing for the industry as a whole, it also means that cannabis stocks are a major risk. Many people could stand to lose a lot of money from any number of unforeseen setbacks. Wall Street Cheat St. says that eager investors will have to sort through a "frenetic jungle of incomplete information and hype, or on some days, misinformation and speculation," and advises that for now it's "probably wisest" they stay away entirely.