The Pioneering Woman Who Invented a Fabric to Stop Bullets Has Died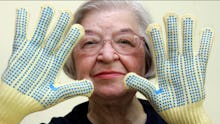 The news: "A true pioneer for women in science," passed away on Wednesday, reported the New York Times. As a DuPont scientist, Stephanie Kwolek is credited for inventing Kevlar in 1964, a fiber that has radically improved police and military body armor since its creation.   
Kwolek died at age 90 in hospice care at St. Francis Hospital in Wilmington, Del. She leaves behind a legacy of achievement in science and technology that directly saved an estimated 3,000 lives of police officers over the past four decades.
Image credit: Getty
DuPont, the company that manufactures and sells Kevlar, announced Kwolek's death on Wednesday on the same day the company sold it's "one-millionth vest made with Kevlar technology," the New York Times reported. 
During her lifetime, Kwolek's revolutionary work won her a slew of accolades including, the National Medal of Technology in 1996 and the Lemelson-MIT Lifetime Achievment Award in 1999. She was also inducted into the National Inventors Hall of Fame in 1995 in Ohio, the National Women's Hall of Fame in 2003 in Seneca Falls, N.Y., and the Plastics Hall of Fame in 2004 at the National Plastics Center and Museum in Leominster, Mass. 
What exactly is Kevlar and how does it work? In a simplification, it is a sturdy light-weight plastic that because of its tightly-woven fabric is able to withstand extremely harsh conditions and, when layered, is bullet- and knife-resistant. 
Kevlar is a synthetic plastic that is made up of a long bonded-together chain of molecules, called polymers. The fabric is used in a wide array of products and structures including car tires, hockey sticks, fiber-optic cables, armored limousines, safe rooms to protect occupants from hurricanes, reinforcement in bridges, fire-resistant mattresses, military helmets and in bulletproof vests. 
The internal structure of Kevlar makes penetration very difficult. The tightly-knit fabric absorbs and dissipates the impact of knives, bullets and shrapnel, which is why the product is so widely utilized to reinforce body armor. 
Kevlar's background story: Kwolek serendipitously discovered Kevlar. In the early 1960s, she was working on developing an alternative fiber to replace steel in radial tires in a DuPont research laboratory. "Not in a thousand years did I think the discovery of this liquid solution would save thousands of lives," Kwolek said in 2003. 
Against the advice from her peers, Kwolek convinced another scientist to "spin" the thin polymer liquid she had created in a machine that removed liquid solvent from the polymer and left behind fibers. Kwolek found that once the liquid was "cold spun," it generated strong fibers with incredible stiffness.  
Eventually the fibers were tested and proved to be five times as strong as steel that weighed the same. DuPont spent $500 million to develop what would later be known as Kevlar, but due to poor marketing, the fabric didn't take off until the 1970s when it made its way into bullet-resistant vests. 
Kwolek signed over the patent royalties to DuPont, so she never benefited from the millions of dollars the company went on to make from Kevlar sales. After she retired from DuPont in 1986, she went on to tutor high school students in chemistry and encouraged young women to pursue careers in science. 
In 1998, Kwolek was asked in an interview about her status as a legendary female inventor. She humbly said, "It really hasn't made any difference for me except that it's made me more busy. Sometimes I feel sort of embarrassed by the whole thing." Kwolek's esteemed invention is our inheritance.