NASA and MIT Have Designed the Passenger Plane of the Future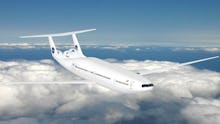 Meet the Double Bubble. 
Image Credit: Popular Science
As fuel costs make up the the by-far largest operating costs for airlines, NASA asked MIT to design a a slimmed down and more fuel-efficient version of the classic passenger jet. A few years later, the "Double Bubble" was born.
With its wide fuselage (the main body), rear-mounted engines, reduced wingspan and an upturned nose, the 180-seat aircraft would burn 70% less fuel than a standard Boeing 737, while also producing less pollution and noise. 
Image Credit: Popular Science
NASA hopes the craft will be ready for 2035, when air traffic is projected to be double what it is now. Engineers will likely bring the design concept to production on a scale model for testing this summer. 
Green planes on the horizon. This is not the first time that a fuel-efficient aircraft has been discussed. Jet fuel prices have been rising sharply since the 2008 recession. In the past three years, fuel costs have reached a record high and combined with the traveler slump in booking flights, airlines only see an average of 2.4% in profit margins.
If planes ran on renewable energy, low-emission fuels, biofuels or green diesel, it would lower overall costs. It would actually make good business sense too: Consumer spending is the other key way to increase airlines' profits.
Here's a look at some recent experimental changes to aviation fuel:
In 2008, Air New Zealand tested a flight run partially on plant oil. A Boeing 747-400 plane flew for two hours running on a 50/50 blend of conventional jet fuel and jatophra plant in one of the four Rolls-Royce engines that powered the plane. 
In 2011, aviation biofuel was approved. Since then, over 1,500 commercial flights have been powered by a combination of biofuel and traditional jet fuel.  
In 2013, the U.S. government agreed to grant tax credits for the use of sustainable aviation biofuel. The idea behind this was not only to cut prices but also to make green diesel a more viable product in the market. Green diesel comes from animal fat, cooking oil and inedible corn. It also blends well with regular jet fuel. 
In Jan. 2014, Boeing flew an Etihad Airways 777 plane for 45 minutes on biofuel in the United Arab Emirates. The company was celebrating a new initiative to build a biofuel supply chain in the region that will power many aircrafts. 
In Feb. 2014, Rolls-Royce unveiled the design for its next generation fuel-efficient engines. One is named Advance and would use at least 20% less fuel than the 1995 model and boosts a corresponding decrease in CO2 emissions. It may hit the market for civilian aircrafts by the end of this decade. And by 2025, the company hopes to bring an even more fuel-efficient engine, UltraFan, on the market.